MofT Eco-Academy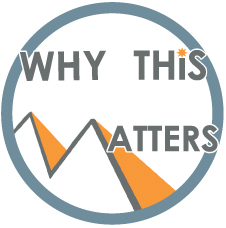 Why this matters
Our Eco-Academy nurtures our vision of humanity in harmony Earth.  We promote optimism for the future because our work engages with youth and the young at heart. We provide field trips (K-12+), internships, apprenticeships, and volunteering (12+ years). Our in person & online learning tools encourage innovation. We support pilot projects, in-the-field and university  research.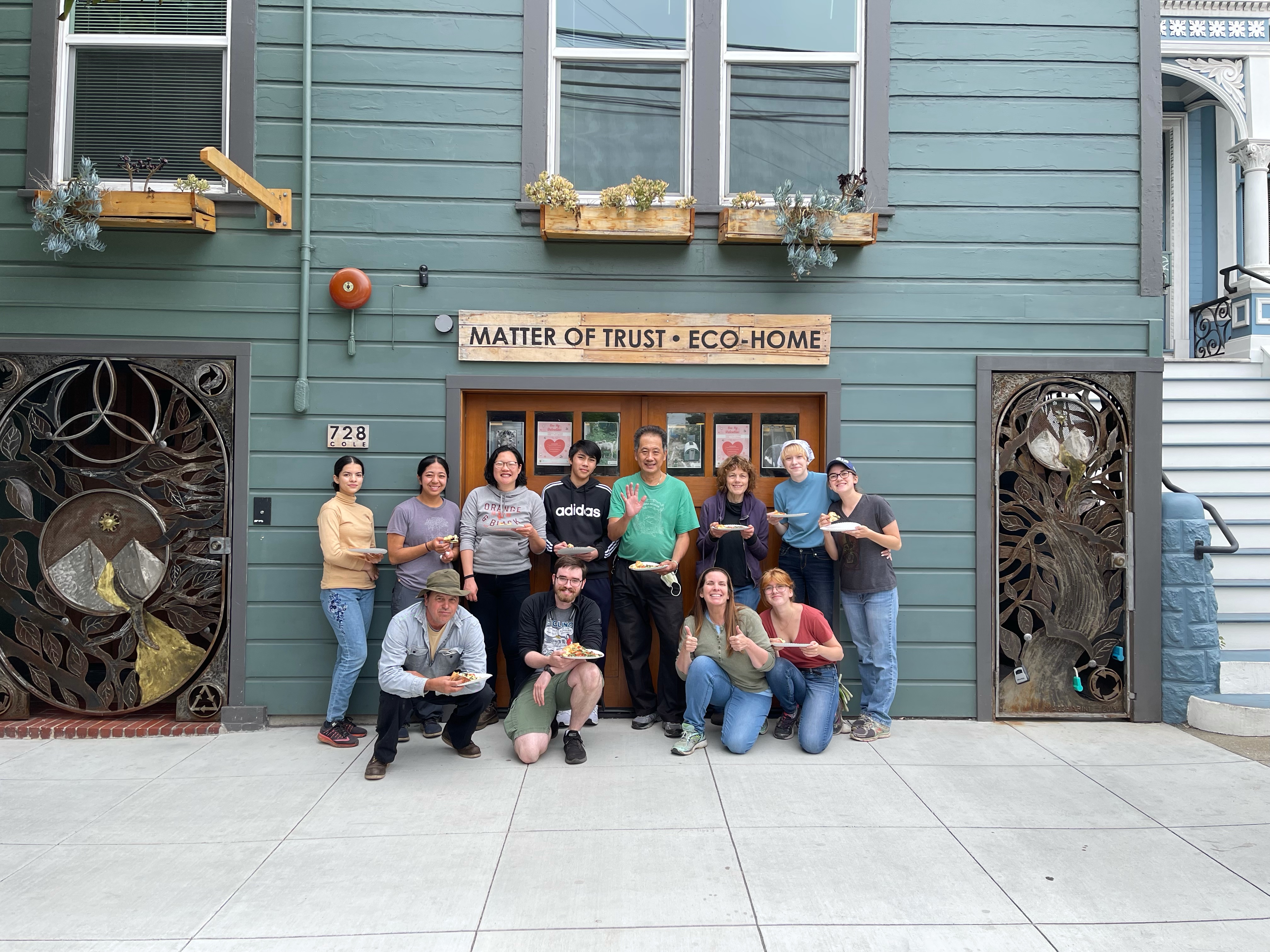 Interns and staff in front of our Matter of Trust Eco-Home.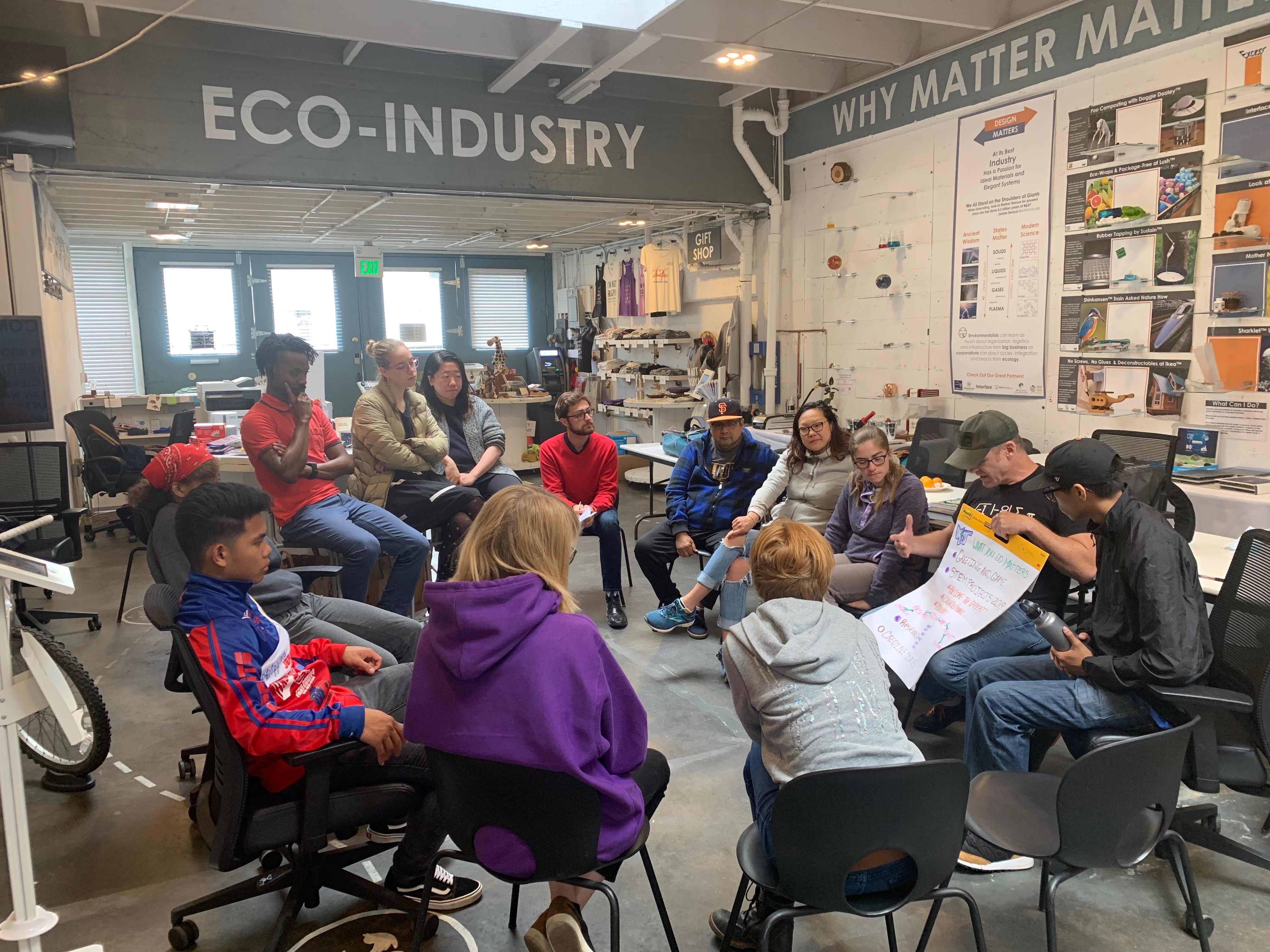 Interns and apprentices gather for morning check-in at our Matter of Trust Eco-Industrial Hub.
Current youth programs offered
Research Projects for those who enjoy working on their computers / remote
Use our resource library for fun and innovative planet friendly ideas from around the world
Add to our ever growing It's Easy Being Green book full of eco-tips
Research for our Fallen For Harvest eco-kitchens / dining room exhibits
Research on solar / wind energy battery/storage
Research on recycling solar panels and windmill construction materials
Research on eco-products vendors
Research on plastics and plastics in the ocean
Research on bees
Research on gray water – laundry to  landscapes
Research on desalination
Hands-on Programs
Summer Intern Projects
Laminate the articles for the binders libraries at Eco-Home and Eco-Hub
Design / set up the Eco-Home for our 6 open houses for videos
Update Open House Exhibit write-ups and build-outs Eco-Home
Eco-decorate the Eco-Home Gift Shop which involves crafts, thrifting and green purchasing
Create a video – YEEPs are our Youth Eco-Educational Program vlogs and YouTube shorts made by interns, apprenticeships, volunteers, field trips & workshops.
Plan and create eco-education fairy garden with tiny tiny eco-home models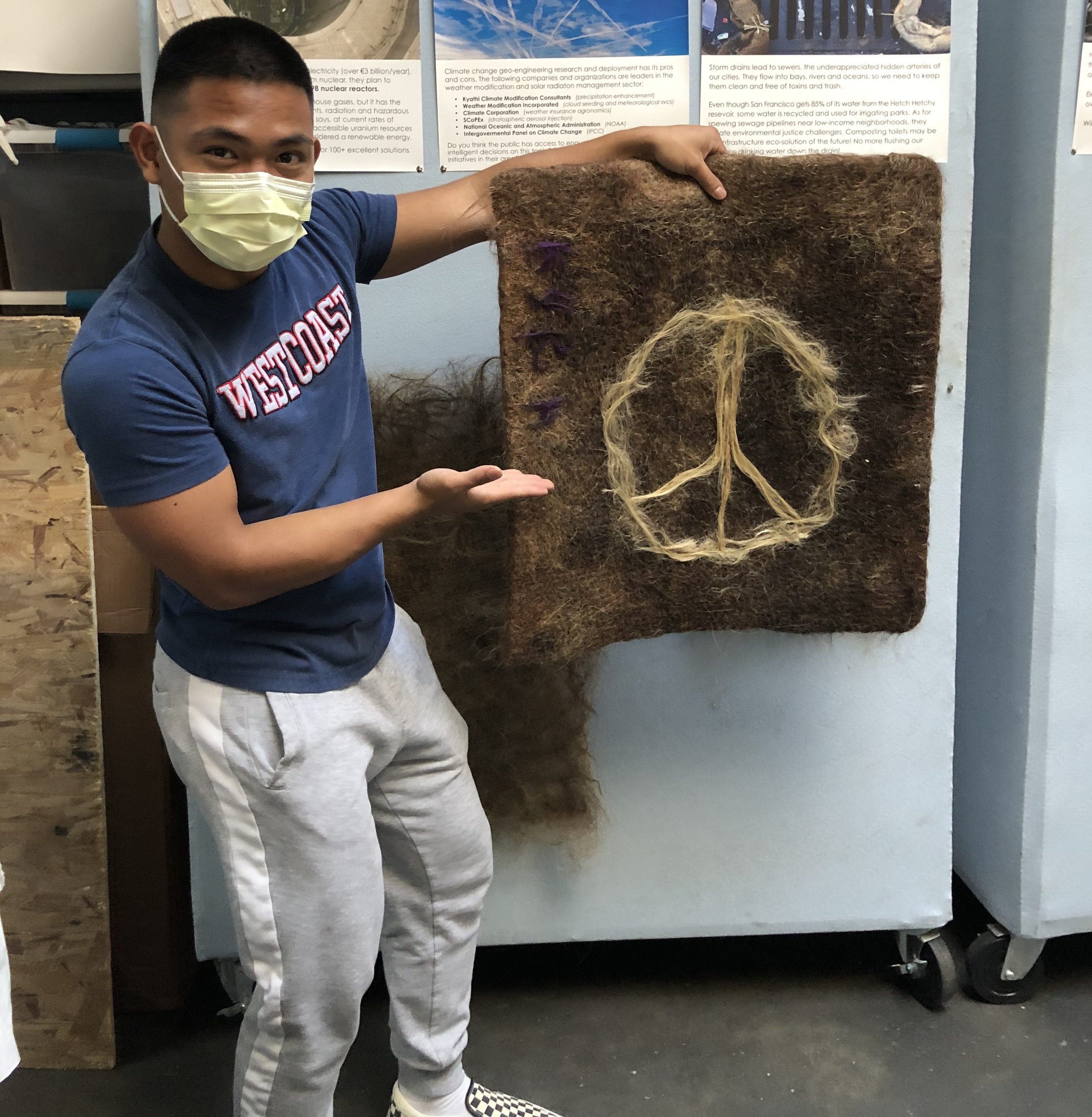 Prince, intern, with a fun hair mat!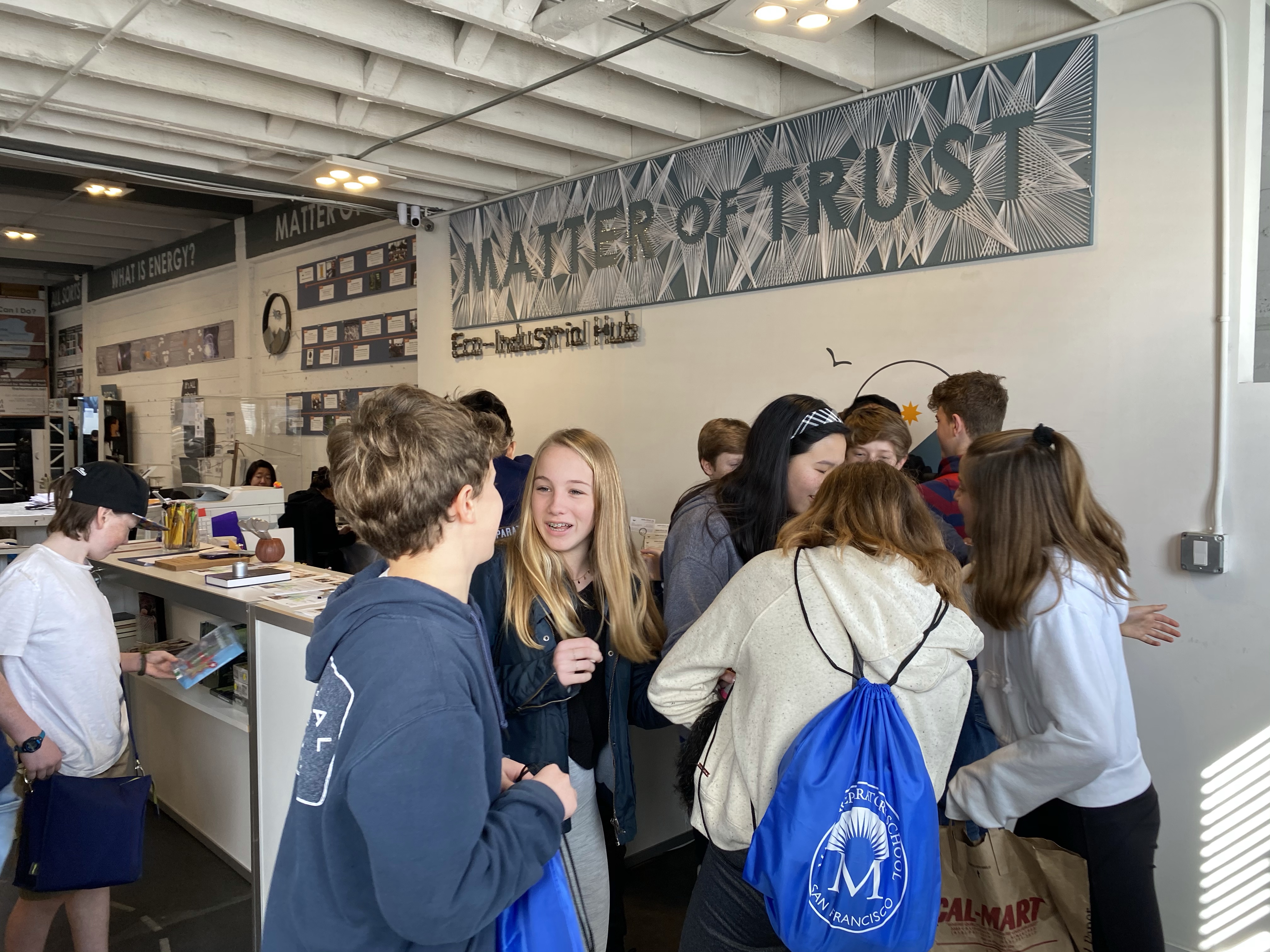 Field trip at our Matter of Trust Eco-Hub.
Field trips often lead to internships and even apprenticeships. We have had so many amazing youth working with us over the years!
If you'd like to sign up to volunteer, we'd love to hear from you!  Contact us to bring a class or youth program for a field trip!
Field Trips are offered in-person at two locations:
Matter of Trust Eco-Hub
1566 Howard Street
San Francisco, CA 94103
Matter of Trust Eco-Home
728 Cole Street
San Francisco, CA 94117
Shout out to our friends at:
The Hamlin School
Town School for Boys
Lycee Francais of San Francisco
Hamlin School for Girls
Lick Wilmerding High School
Spanish Infusion School
Abraham Lincoln High School
Khan Academy
Gratton Elementary School
SF Conservation Corps
Jamestown Community Center
Hebrew Cultural Community Center
Rosa Parks Elementary School
Ujima Foundation
GirlVentures
Boys and Girls Club
Mission High School
French American International School
KIPP Bay Area
JYCC
SF Stem
New Door Ventures
JVS
John O'Connell High School
University High School
Urban School of San Francisco
Balboa High School
and many more…
Eco-Acedemy History, Alums & Leadership
History
2013 – 2016 – LEAF – summer camp designed for middle school aged youth. In partnership with Presidio Hill School's Leadership Ecology Action Fellowship program
2014 – Sprouts – environmental summer camp designed for elementary school aged youth
Upcoming Events
2023 – Matter of Trust 25th Anniversary!
Help us by sending photos for a new exhibit:  Where Are They Now? Celebrating 25 years of internships, apprenticeships and working with amazing youth at Matter of Trust
Leadership
We have two board members in the education sector:
Todd Ditto – teacher
Terry Craig, PhD –  instructional designer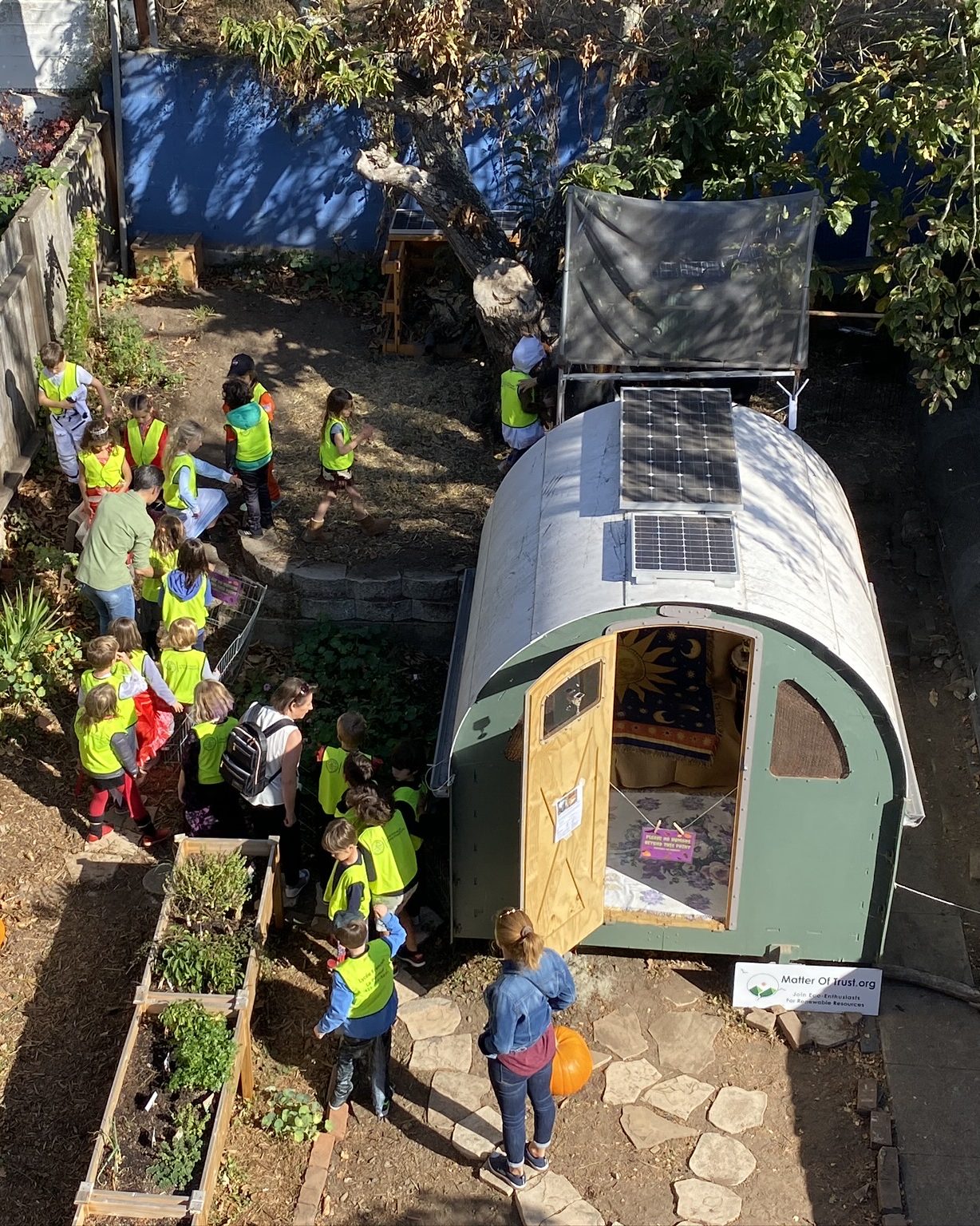 Field trip at our Matter of Trust Eco-Home and Urban Edible Garden with Tiny Home