Vision & Mission
Matter of Trust
Welcome to Matter of Trust!
Our Vision
Humanity living in harmony with Earth.
Our Mission
To link surplus with needs.
We serve communities by:
•  Mobilizing innovative systems that sort waste into resources through cottage-industry. (Clean Wave Program)
•  Developing and growing our environmental social media platform. (The Hum Sum)
•  Researching and showcasing planet-friendly inspirations for home and workplaces. (Eco-Home)
•  Implementing programs that nurture healthy soils and celebrate clean air, water, and energy. (Eco-Hub)
•  Empowering youth to explore green careers through apprenticeships. (YEERRPP!)
Our goal is to encourage optimism and trust in nature's abundant cycles.
Matter of Trust is an ecological* public charity established in 1998.
*Ecology is the study of how life thrives in habitats; from cities to rainforests.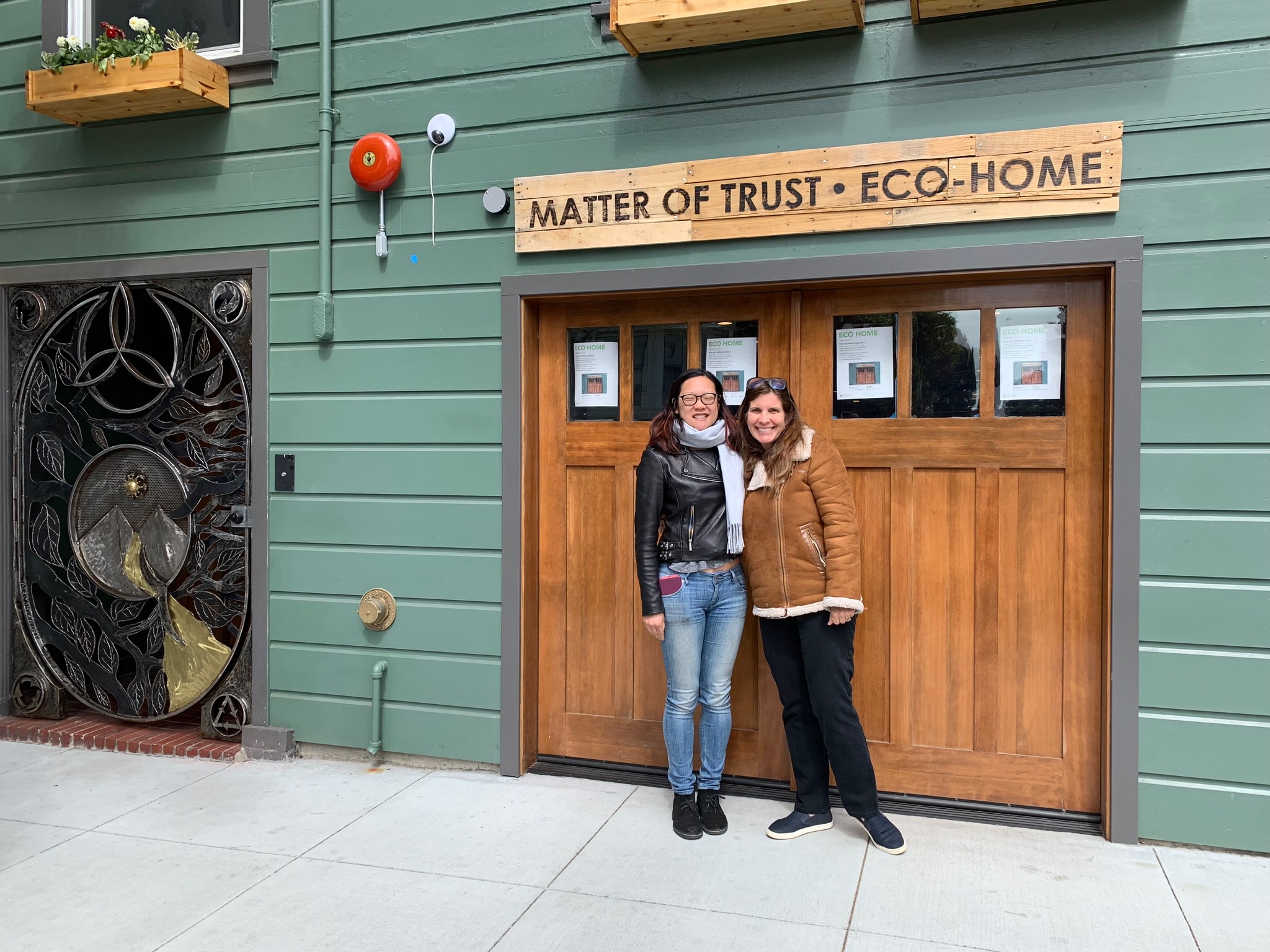 Betty & Lisa, Board Member and President, respectively, of Matter of Trust, outside our model Eco-Home in Haight Ashbury, San Francisco.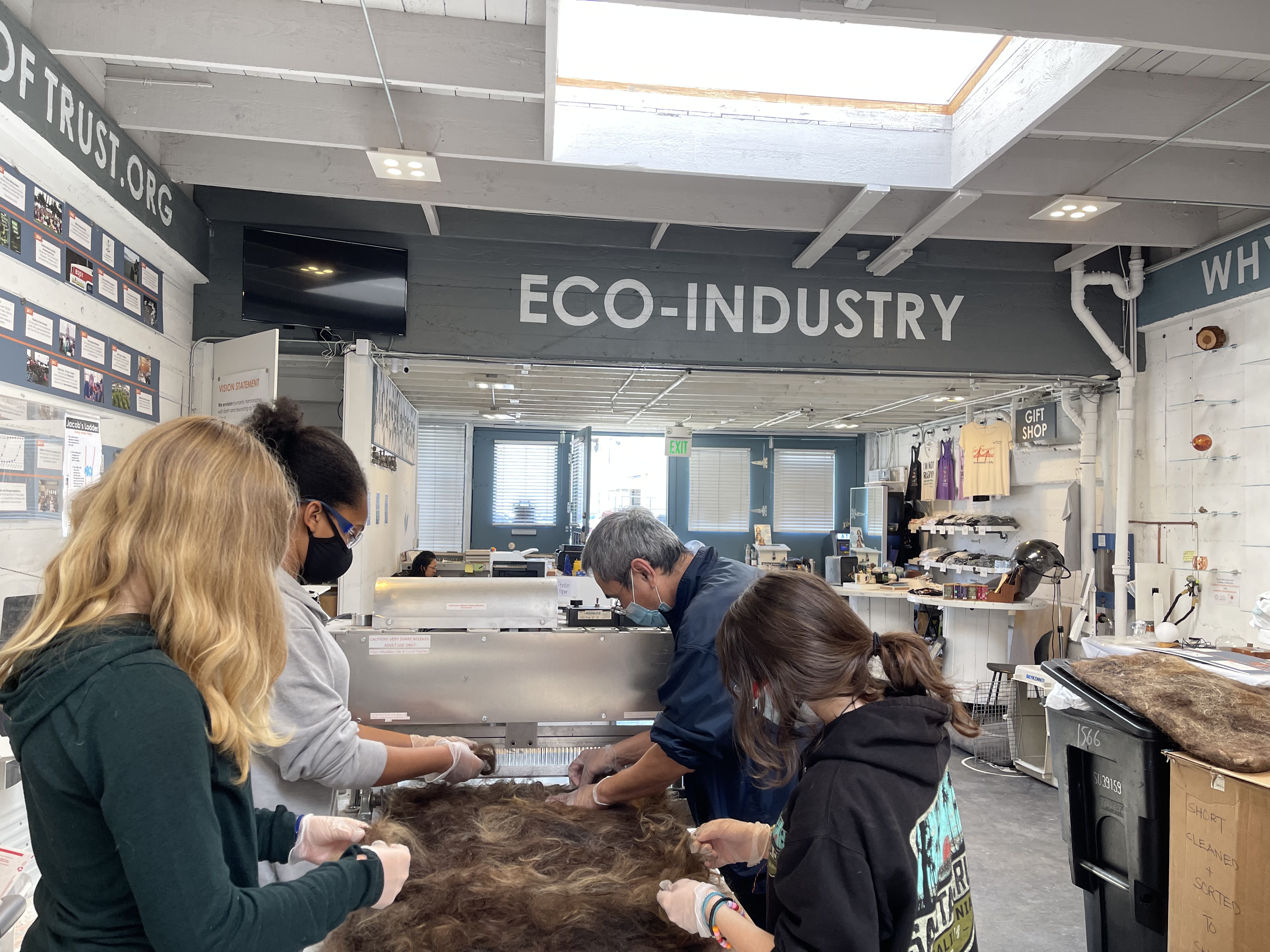 Felters make "Hair Mats for Oil Spills" at the Matter of Trust Eco-Industrial Hub – working model factory and exhibit hall.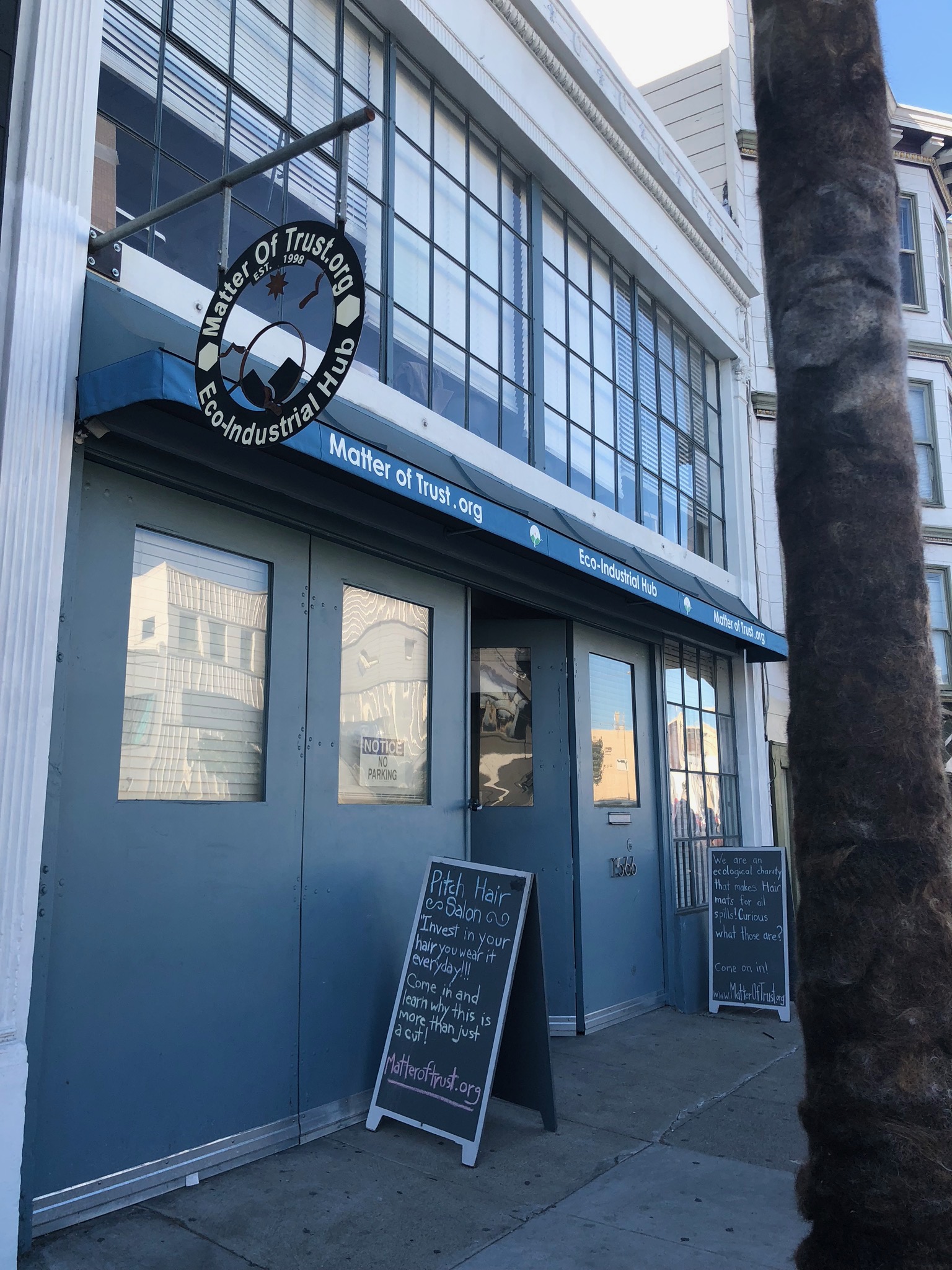 The front exterior of our Eco-Industrial Hub. SOMA, San Francisco.
We were founded in 1998, thus, 2023 marks our 25th Anniversary!  We have taken this opportunity to do a deep dive into what we do want for the world we will be in over the next 25 years and beyond.  Soon we will be publishing our comprehensive Strategic & Implementation Plan.  Here are some highlights:
Increase staff for our flagship working model factory and exhibit hall at the

Eco-Industrial Hub. 

Expanding our network of Global Hubs & Partners through visits, research calls & conferences.

Grow our environmental social media platform TheHumSum.org for Humanity Adding Solutions, with more languages and features such as: impact reports, green-services directory, mini-hum sums for government departments and large companies…
Host virtual classroom and in-person field trips and tours for the MofT Eco-Home general public, week-long, open houses that we hold every 2 months throughout the year. Each concentrates on a different area of the house and planet-friendly lifestyle tips for every season.

Sign 300

Clean Wave

project Global Partner MOUs with felters, researchers and pilot projects for waste fibers, oil spill clean-up, soil remediation, seagrass and kelp forest restoration, and more.

 Create learning modules to accompany our comprehensive and replicable exhibits: Eco-Home, Eco-Hub, Affordable Housing & Homelessness, Desalination, Incineration, The Global Compost Project, Bees & Beekeeping, Green Energy Waste & Solutions, Deconstructible Green Building, and more.
Update online and reprint the 3rd edition of our It's Easy Being Green eco-tips book.
Update our Resource Library – MofT Archive currently with over 2500 local and global eco-innovations through 2017.
Expand our Youth Eco-Educational Resource & Research Pilot Projects (YEERRP!) to international classrooms adding local components to programs like our Peace of Mind kits.
Celebrate our past and present interns, apprentices & alums for our Where Are They Now  – 25 Years in 2023!
Launch and host the researched green innovations Matter of Trust Seal of Merritt & Excellence Program, Mofties Awards for edible gardens and eco-homes, and the Youth HumSummer Prizes.
Compile The WALOP (Worthy Actionable List of Projects by 2050) with Hum Sum members and global research partners.
Our Core Values
(Beliefs / Behaviors)
• We always presume there is more to learn from Mother Earth.
• We orchestrate truly helpful, beneficial programs that are in concert with Nature.
• We only work on projects that improve lives and respect environments.
• We listen to society and hear what is needed.
• We demonstrate engagement in ecology through sorting, using recycled materials and prioritizing renewable resources.
• We improve constantly as an organization by being inclusive (mailroom to the main office, drawing board to the boardroom, boots on the ground to seats at the table…).
• We always seek out perspectives and incentives from others.
• We celebrate peer-recognized mastery in all sectors – high tech and low tech – applauding project ownership.
• We nurture only what we do want for the planet.
• We believe that immersive, provoking media and exhibits have a responsibility to provide positive, 2-way interactions.
• We promote pathways for change, both via small, convenient, individual habits over a lifetime and  through impressive, mobilizing, large-scale actions vital to societal shift.
• Information, education, and inspiration have the power to be transformative; therefore, we use them wisely.
• We were taught that textiles are rated on how well they hold together or fall apart on a scale of integrity. The fabrics of society and reality work by similar principles.
• We know the more we are integrated and our threads overlap, interweave, and are entangled with others, the better we feel, the stronger we are and the longer we live.
• Matter of Trust (but verify) – we often install, implement, or reproduce eco-ideas, innovations and inventions in-house or as pilot projects, in order to see results with our own eyes, put them on display, and, very importantly, we give credit where credit is due.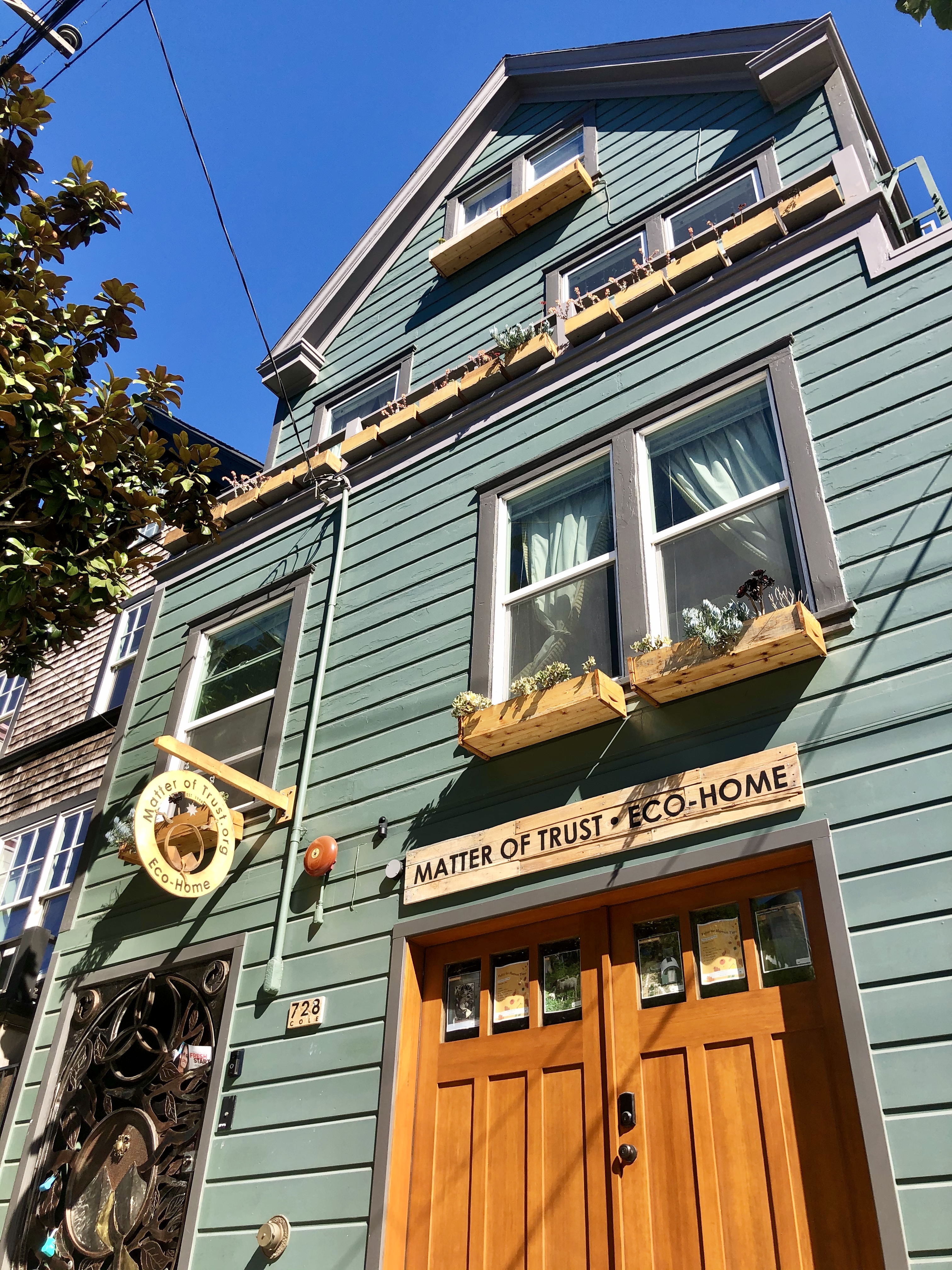 The front exterior of our model Eco-Home. Haight Ashbury, San Francisco.
Our Guiding Principles
(Universal Laws)
• Look deep into nature to find answers.
• Study matters at both micro and macro levels.
 • Grow together, through partnerships and networks.
 •  Lead by example, it trumps preaching and lecturing.
 •  Encourage and welcome all who want to join the mobilization.
• Demonstrate the benefits of a life in pursuit of service, kindness, generosity, respect, empathy, liberty and happiness.
• To follow life's passion and find your dharma simply be where time flies, curiosity abounds, and energy renews freely.
• Avoid reinventing the wheel and, instead, assist innovation.
• Honor the wisdom of seniors, admire the vitality of youth, and respect the hands-on experience & expertise of those in the field.
• Hail enthusiasm whenever you see it. Truth is the daughter of Time, but Apathy is her evil twin.
• Follow the Golden Rule  at home, at work, and outdoors.
• Follow Mother Nature's lead;  be a catalyst and encourage complex, organized, and integrated cycles.

1. Eco-Industrial Hub – At our model factory we make oil spill clean up mats** out of recycled clippings of hair, fur and fleece from salons, groomers, and farmers.  Our replicable exhibit hall walls discuss best practices for sorting waste into resources, as well as perspectives, incentives, challenges and solutions for clean air, water, energy, materials and manufacturing. Plan a visit!
2. The Eco-Home – Showcases greening all areas of the house and fun ways to ecologize your holiday celebrations throughout the year. Starting with Bee My Valentine (Bedrooms & Garden), Spring Greening (Bathrooms and Storage), Greendependence Day (Home Office / Home Gym), Fallin' for Harvest (Kitchen and Dining), Haunted Eeek-o-Home (Exterior and Garden), and ending with Seasons Greenings (Living room, reception & gift shop). Check out our General Public Open Houses or book a tour!
3. Urban Edible Garden – Explore our research projects made to uplift and heal the mind, body, and soil. Visit our tiny home, solar fan aerated compost pile, laundry to landscapes gray water system, dog poo composter, chicken mansion, fog catcher, raised veggie beds, honey beehive, bat house, and more!
4. Clean Wave Program** – Our flagship Eco-Hub and MofT's Global Partner Hubs make mats that are installed in storm drains and contaminated waste-water filtration systems to soak up petroleum spills. Beyond this, natural fibers make and excellent substrate and are a slow nitrogen release, proving to remediate soil as well as help to regenerate seagrass and kelp forests. Together with felters, researchers, purchasers, artists… this program keeps waterways clean, sorts trash into resources, restores habitats, educates the public and creates cottage-industry green jobs! 
5. The Hum Sum – for Humanity Adding Solutions is our online, environmental, social media platform. This allows everyone (individuals, businesses, government departments, schools, nonprofits…) from around the world to connect in a cost-free, ad-free, politics-free, troll-free, bully-free, and spam-free zone. We have forums, polls, local to global events calendars, green biz directory, eco-commitment counters, and an affordable eco-services and donated gifts / wishlist exchange for items and materials. Welcome All!
6. YEERRPP – Our Youth Eco-Education, Resources, Research & Pilot Projects department hosts field trips, volunteers, internships, apprenticeships, web Mods, studies & write-ups, local to global replicable exhibits and tours. With staff and members, we annually compile prize nominees and organize The MofTies and HumSumer Awards.
7. Other Projects – There are several other delightful in-house programs that we run or fiscally sponsor. These include: The WALOP (Worthy, Actionable List of Projects), Heart of the City Farmers' Market Food Security Education, Sonoma Food Runners, the Global Compost Project, Desalination Benefits & Challenges, Recycling Green Energy Waste, Peace of Mind Kits, Zero Waste Flash Mobs, Life Cycle Analysis MofT Seals of Merrit, The Mofties Awards, HumSummers Prize and many more…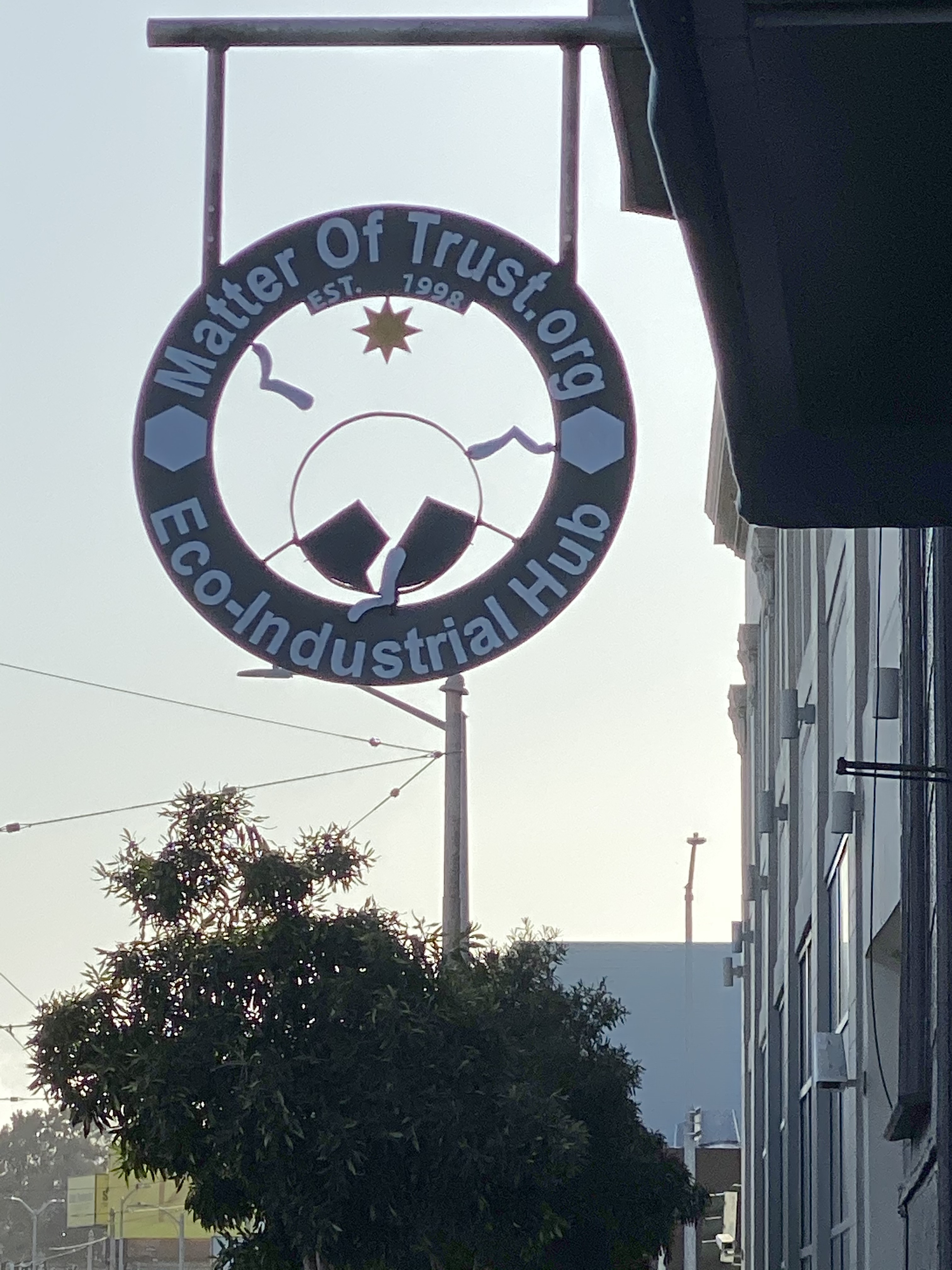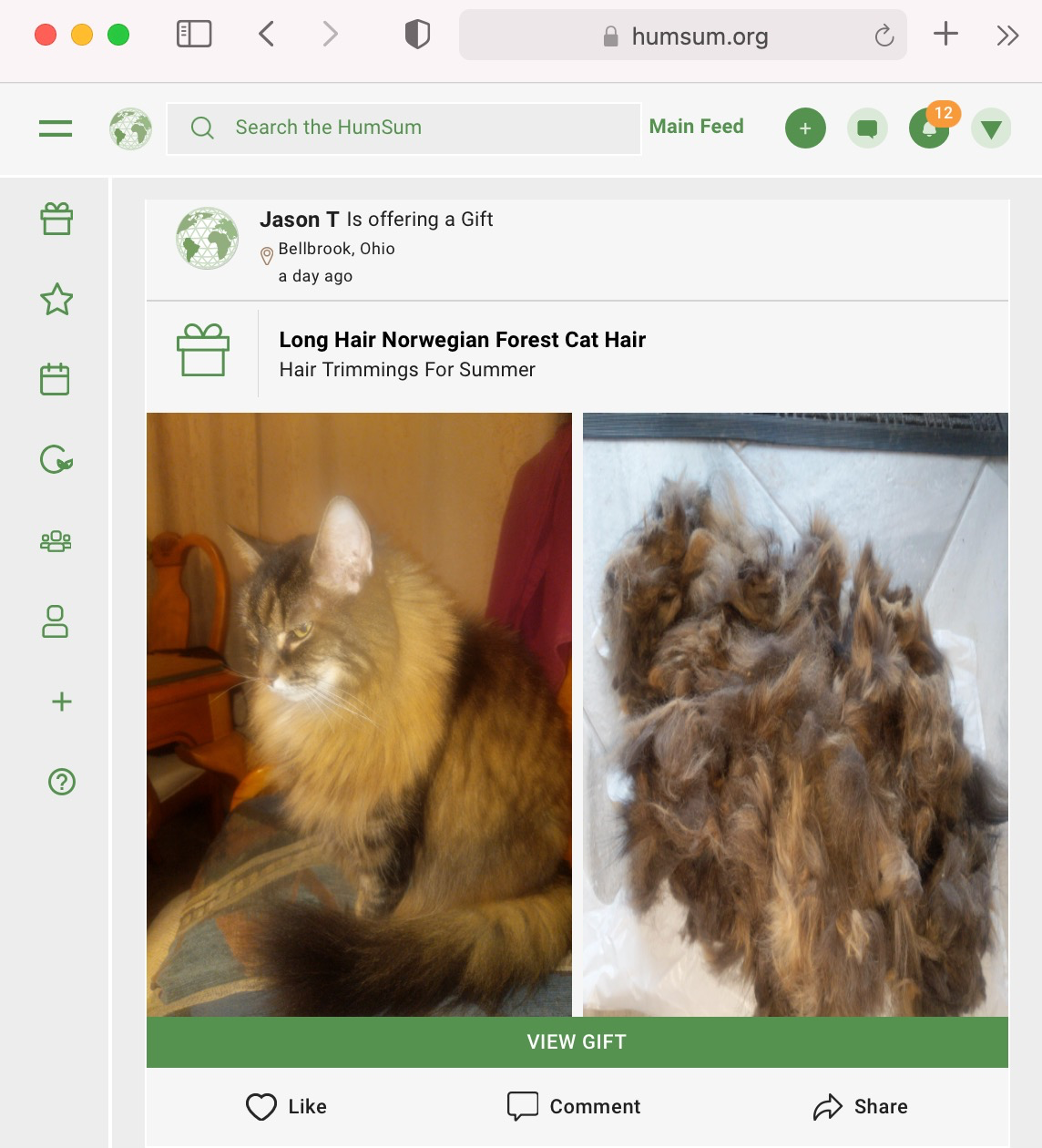 The Hum Sum – Our Eco Social Media Platform that we created for Humanity Adding Solutions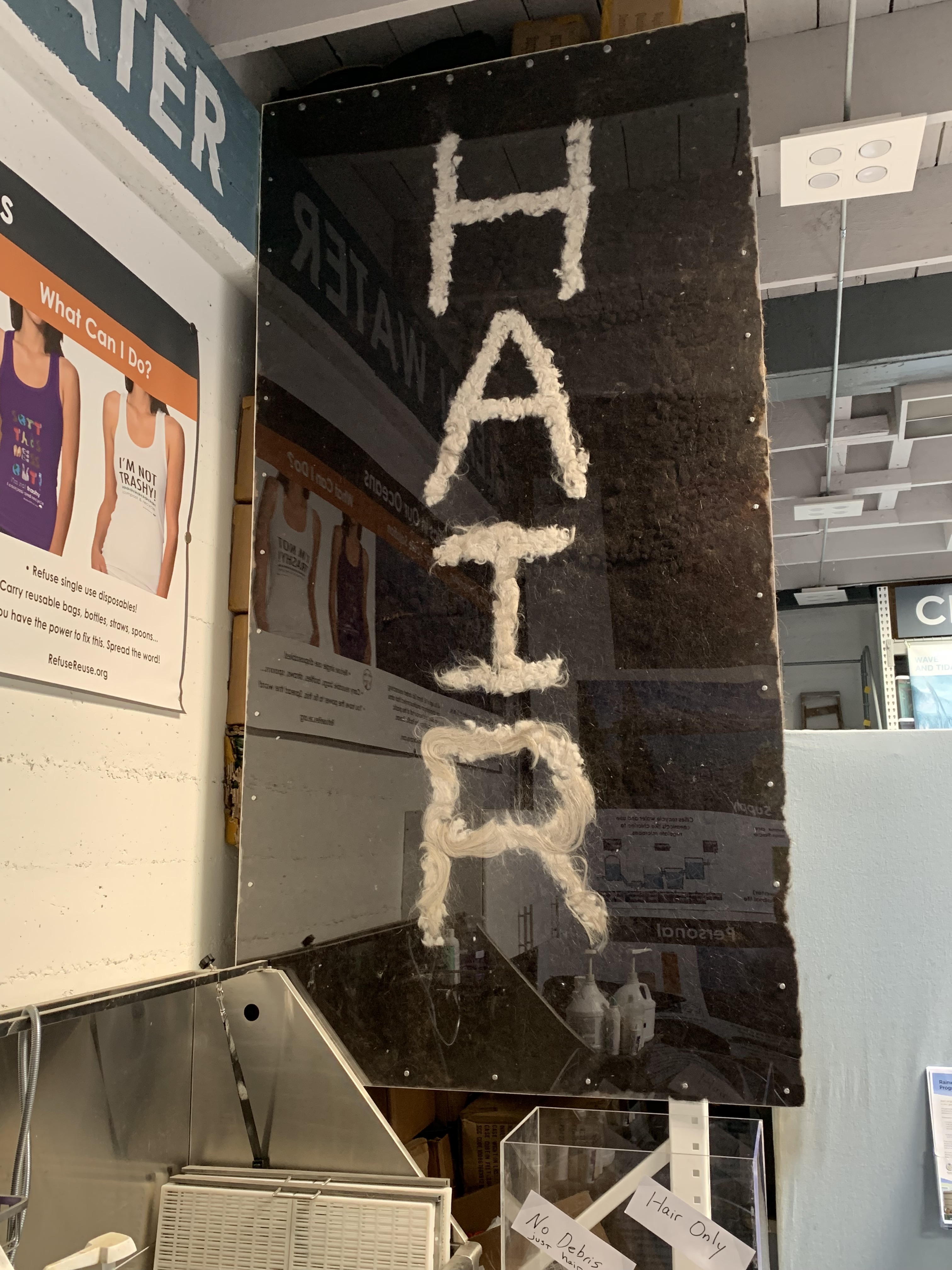 Eco: Ancient Greek work for a relationship between life and surroundings, home farm, planet
Ecology: Study of the relationship between living organisms and their environment (ecosystems, economics, ecotourism…)
Renewable Resources: Regenerative materials that can be collected in ways that encourage replenishing and do no harm
Surplus: Excess, leftover, supply over demand
Zero-waste: Responsible sourcing, production, consumption, re-use, recovery, and recycling of materials
Deconstructable: Manufacturing and building with disassembly and recycling in mind
Cottage Industry: A business or manufacturing activity carried out on a person's property
Micro-Enterprise: Small-scale business with less than six employees
70:30 Local to Global Principle: A lifestyle where 70% of purchases have three degrees or less of separation from source materials and manufacturers. 30% of purchases are exotic with no means of connection with farmers or fabricators.
Our Press Release Boilerplate
Matter of Trust is a 501(c)(3) environmental public charity established in 1998. We have two locations in San Francisco, California: our showcase Eco-Home with urban edible garden and our Eco-Industrial Hub – a working model factory with exhibit hall. We also promote cottage-industry through our Clean Wave progream which collects natural waste fibers and felts them into mats for oil spills, soil remediaion, seagrass and kelp restoration projects, now with 60+ Global Hub Partners.
The outpouring of hair, fur, and fleece donors around the world, led us to develop and launch our environmental social media platform, TheHumSum.org for Humanity Adding Solutions.
Because we work with youth and the young at heart, we celebrate optimism for the future and promote ecology (the study of how life thrives in habitats from city apartments to  rainforests).
All of our programs (in-house and fiscal sponsorships) link surplus with needs – spotlighting re-use, research and renewable resources. Join in today!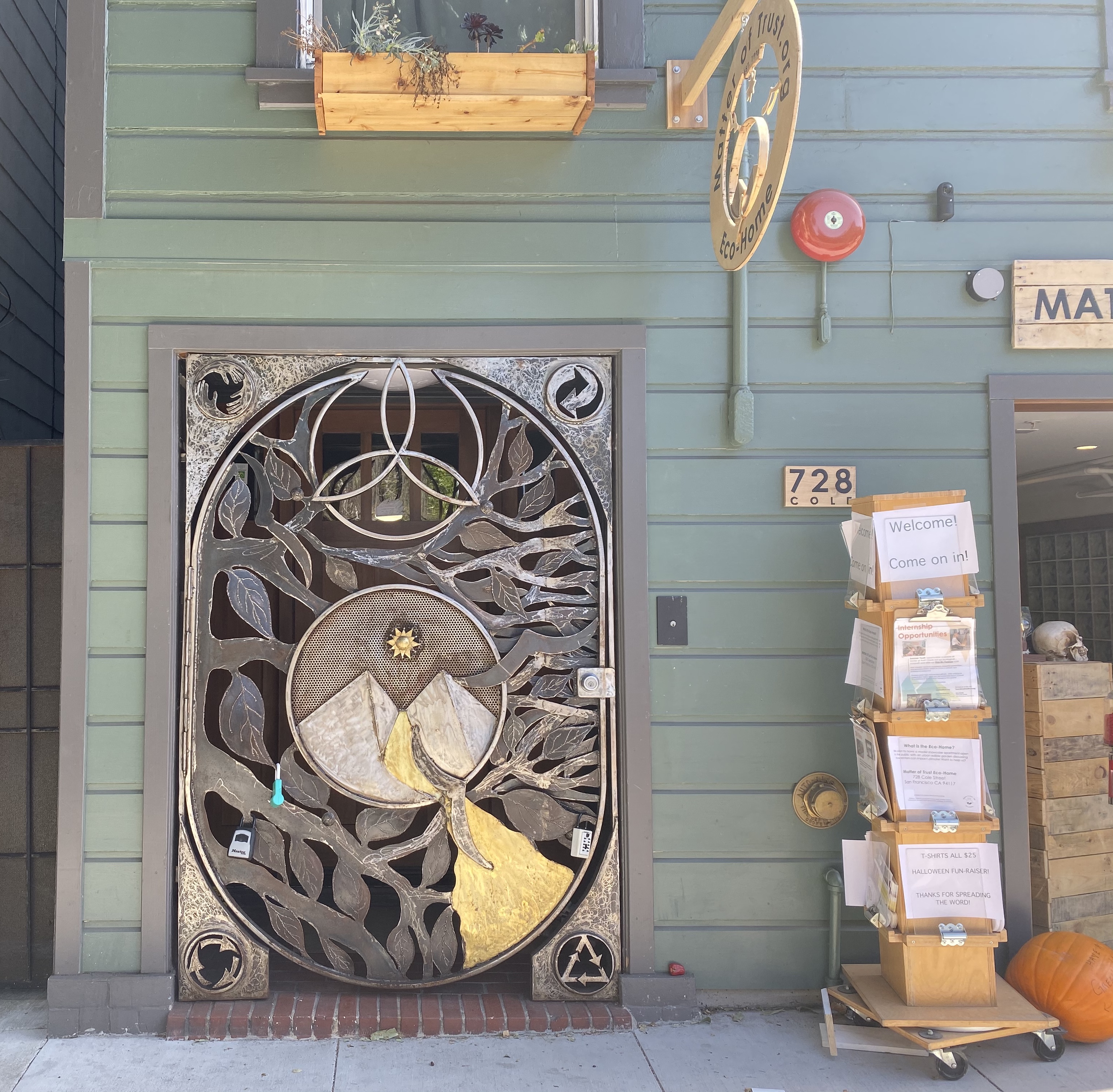 Our front door gate at the Eco-Home, made out of 60% recycled auto parts by Daniel Macchiarini.