Do you want to make hair mats?
We are setting up satellite partnerships around the world, in order to reduce the carbon footprint of everyone generously sending fiber to us in California. 
Thank you for your interest and we look forward to joining forces! On this page you will find many of the resources you need to get started. First, browse the page below, check out our
FAQ page
 and then we'd love to set up a Zoom / phone call to discuss the project, please
email us
for availability.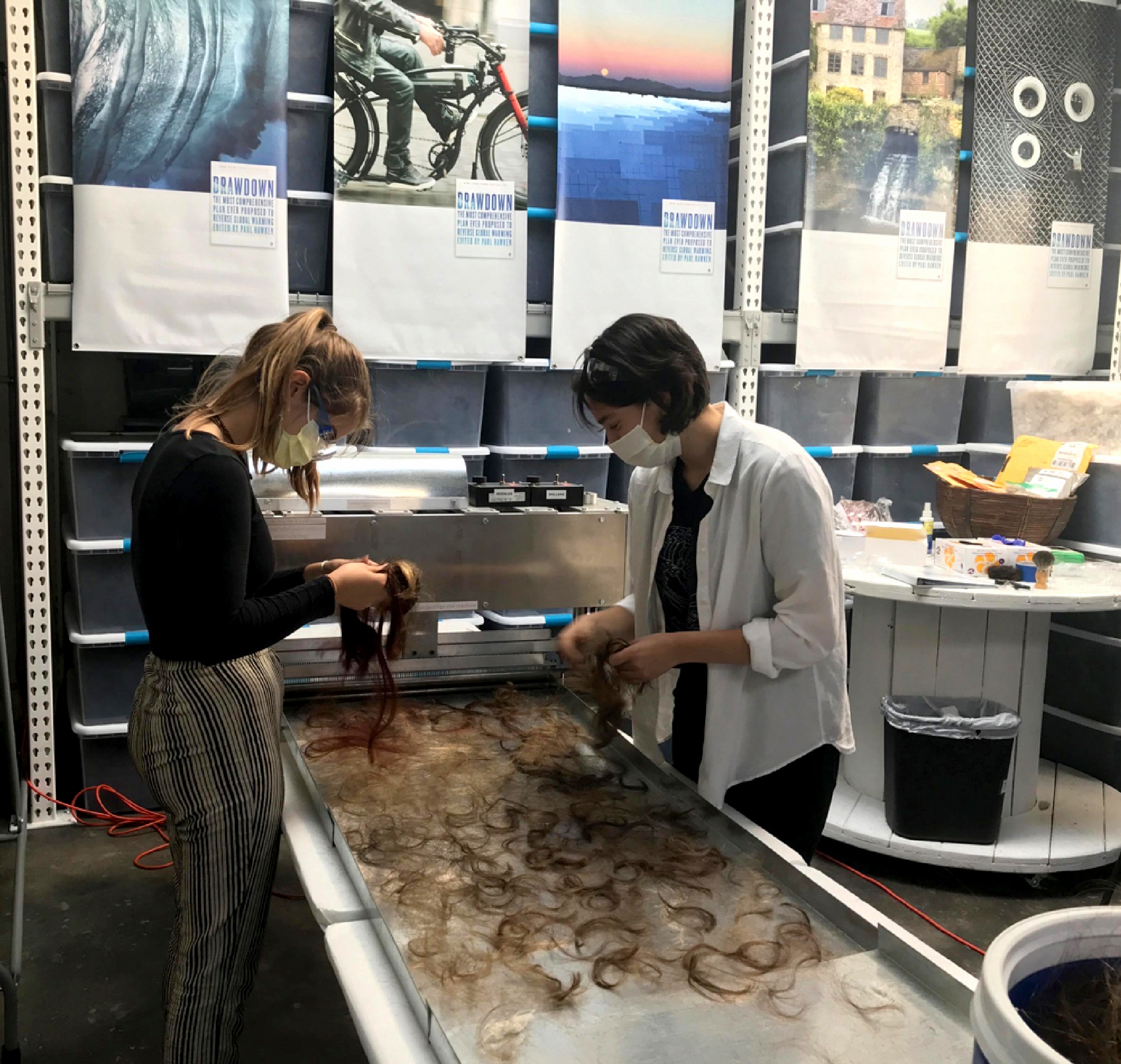 Two volunteers laying down long donated hair on a feeding tray. They are building the foundation of the scrims which go on the outsides of the mats.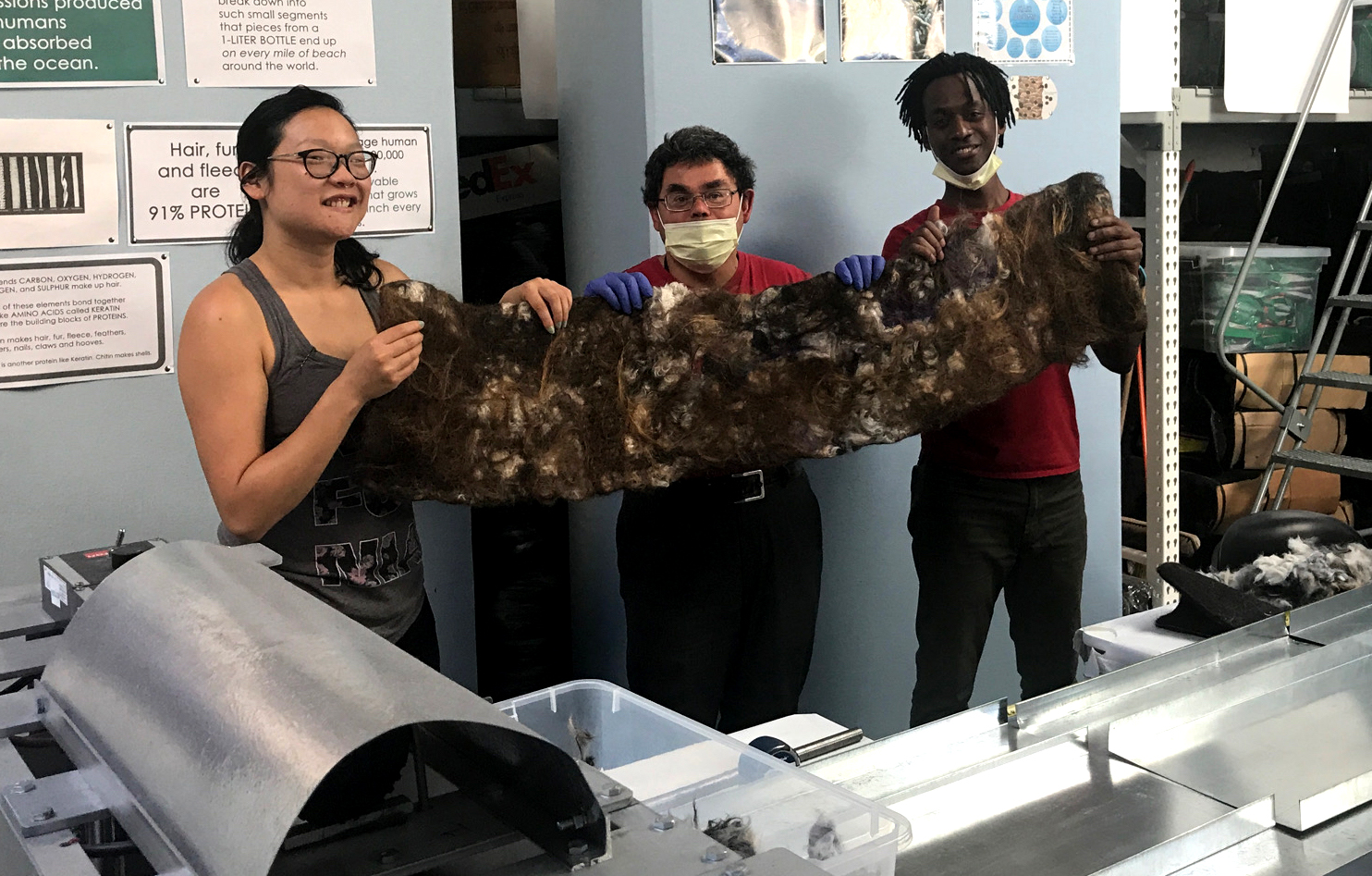 Volunteers with completed hair mat.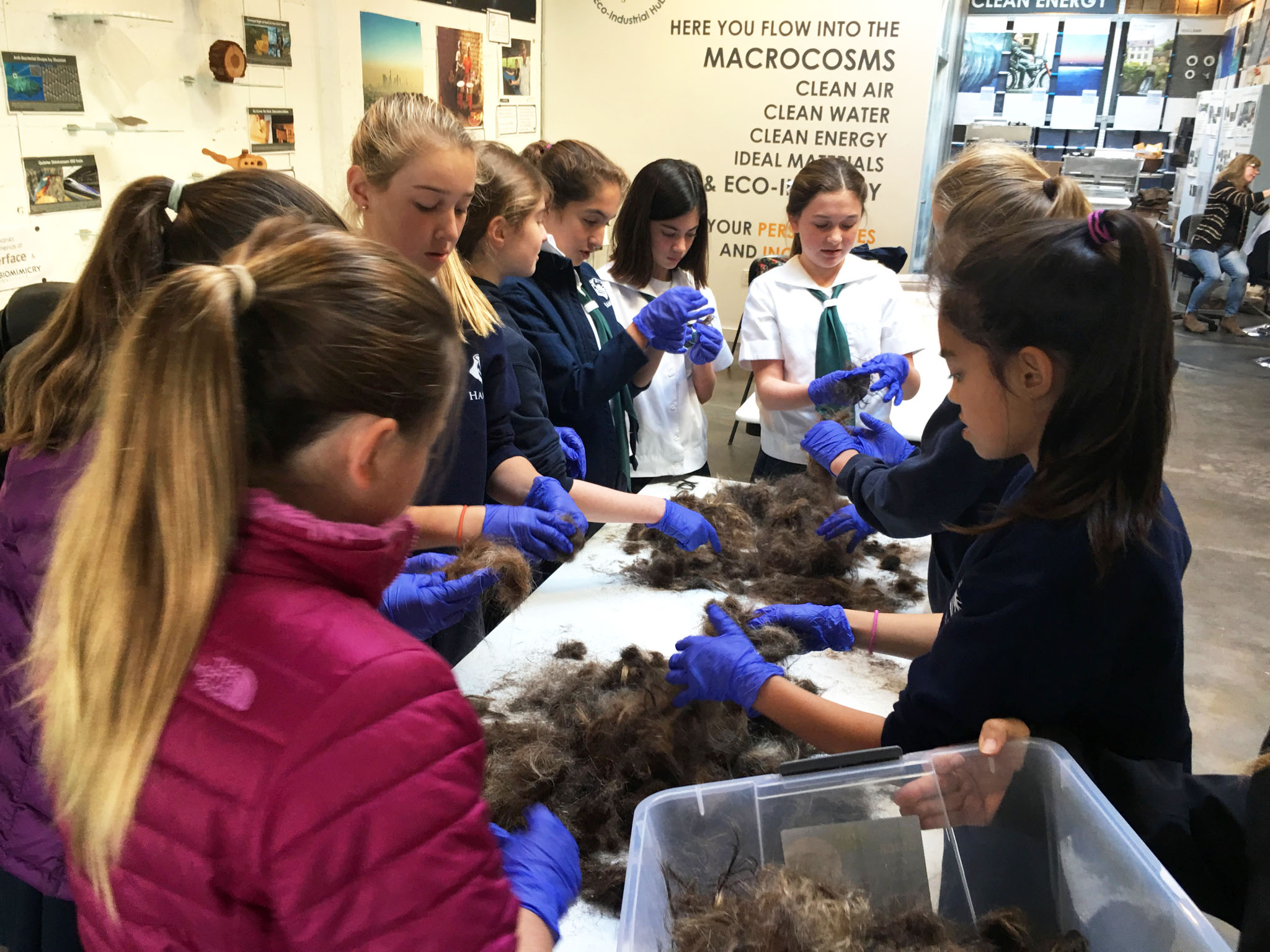 Volunteer girl scout troop sorts through hair donations.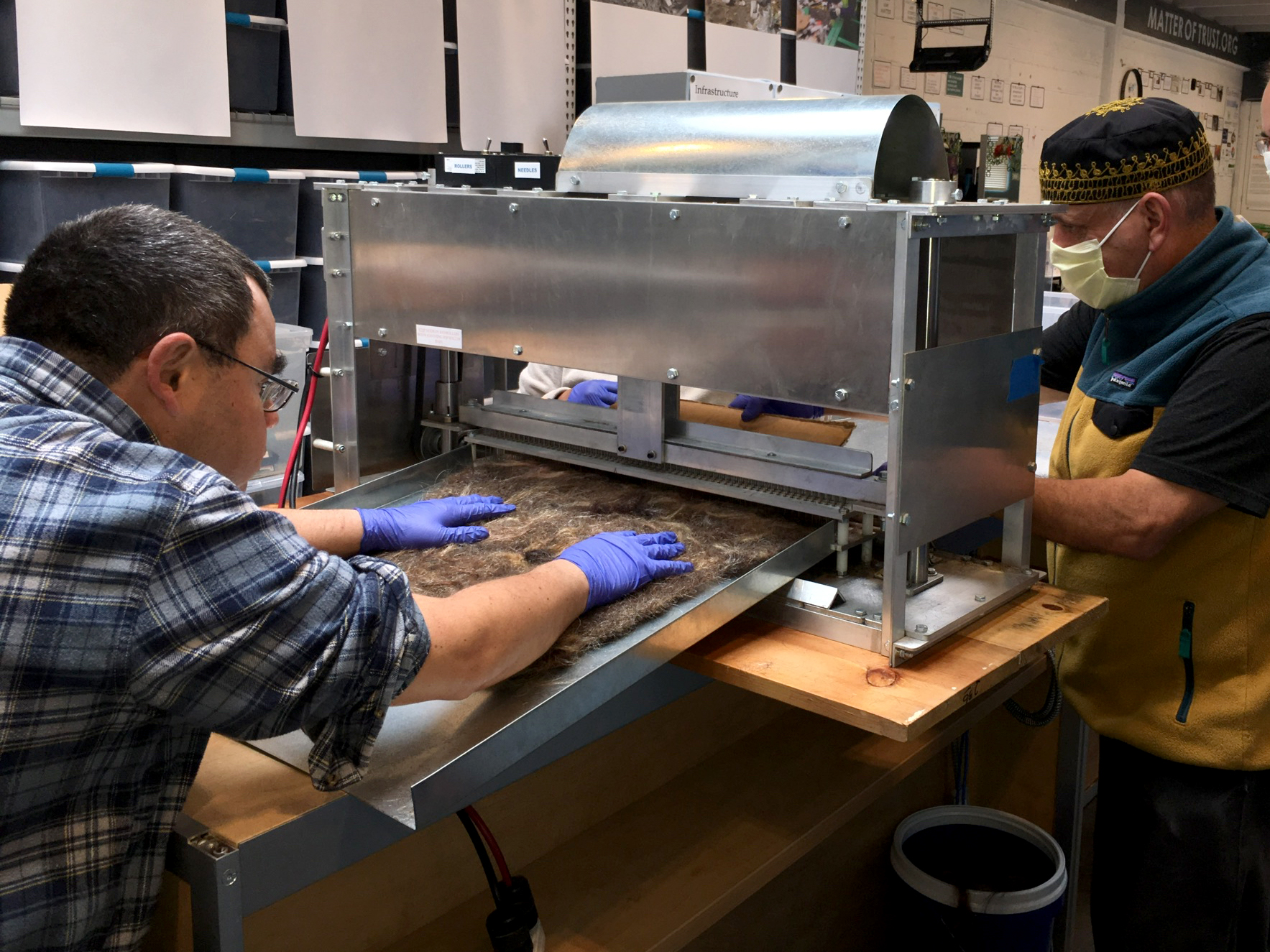 Volunteers push hair mat through felting machine.
Are you a green business entrepreneur who wants to felt hair mats and have available free space at your current location? We have started satellite factories with individuals, small businesses and nonprofits who are using this program to supplement their wages and help support their charities. Our goal is to make this program sustainable, but please note it's not ready to be your sole source of income.
After the initial meeting, we will send you a Memorandum of Understanding (MOU) for your review. Please fill it out and return it back to us.
Step Two: Gather Supplies & Materials
Space: 

You will need a free space such as a garage, warehouse, farm shed, workshop (roughly the size of a one-car garage about 180 square feet.)… large enough to be away from your living area, as this work can create a hairy situation! You don't want it near your kitchen or eating area. 
2. Table: The table needs to accommodate the size of the machine (36 inches long, 24 inches high, 13 inches wide) plus the trays that go on both ends of the machine. The trays can be 1 to 2 feet long. Ideally, the table should be standing height (~71-76 cm). Adjust so its not too low to cause back pain, or too high to cause shoulder pain.
3. Storage Bins: Ideally plastic storage bins with lids to contain the fiber donations.
4. Stool: Adjustable bar stool.
5. A brush to clean the machine after each use.
6. An oil to lubricate machine before each use.
7. Needles: The machine will come with a full set of needles (183 needles). Any needle replacements will need to be ordered from Groz-Beckert (https://www.groz-beckert.com). It costs around $60 for a box of needles.
See video for needle replacement.
8. Fiber: Hair, fur and fleece is donated.
9. Machine: We have a fund to help get you one felting machine and will do all we can to reduce your startup costs (provide research, flyers, training, etc). Since petrochemicals and polypropylene oil spill products are subsidized by governments, we are doing what we can to support this natural solution.
The machine is on a loan (for free – see MOU) and we ask that if the machine is not being used for longer than 6 months that it be returned to us so we can loan it to another partner.
Please note: the machine is quite heavy and will need two people to carry it out of the box.
10. Time and Effort: These count as your investments towards the project.
Step Three: Receiving the Machine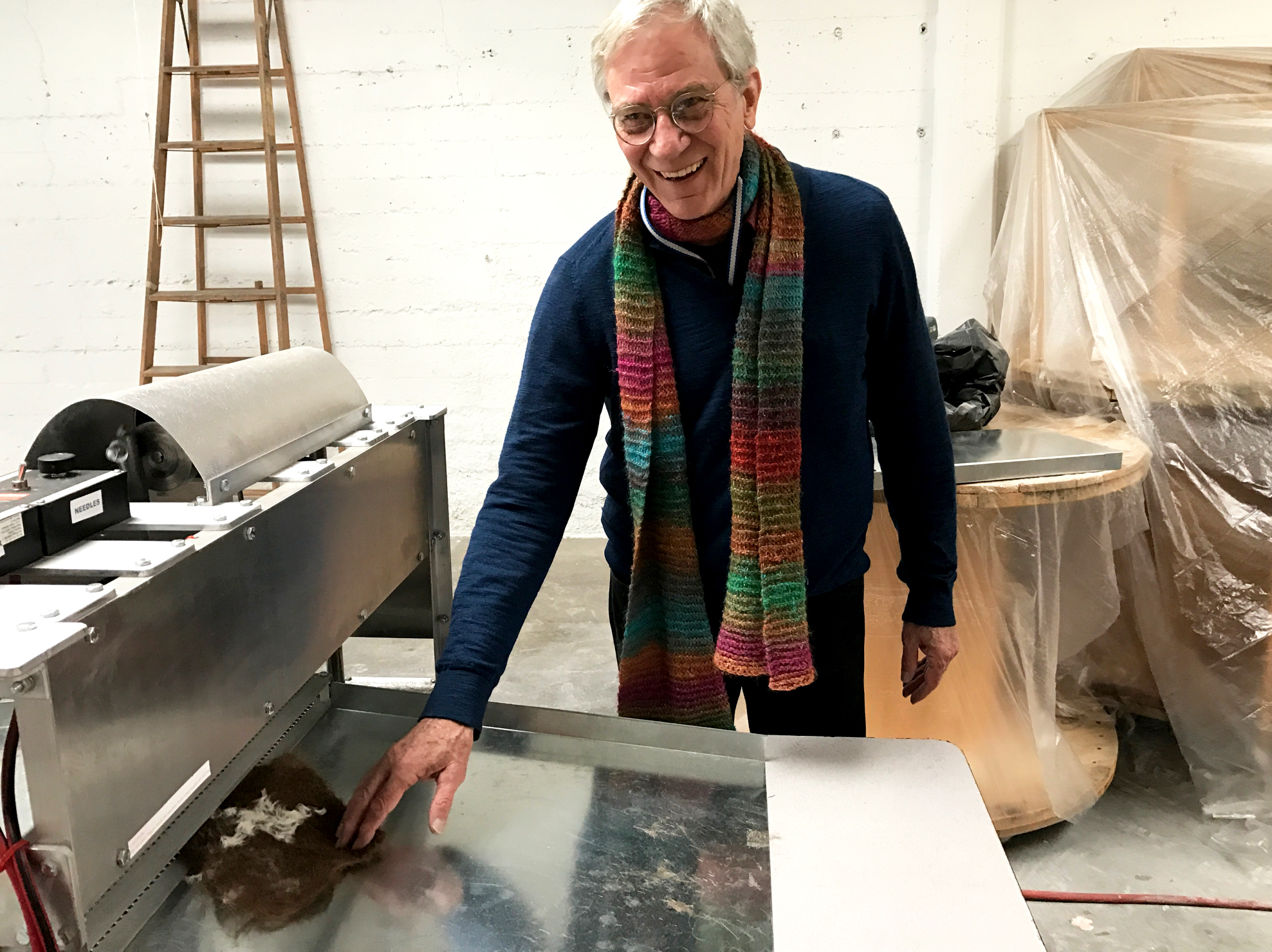 Volunteers with hair mat in progress
Once the MOU is signed and returned, a machine will be made and shipped to you.
The machine is at no cost to you and on loan. We ask that if the machine is not being used for more than 6 months that it be returned to us so that we can loan it to another partner.  
The machine is 36 inches long, 24 inches high, 13 inches wide.
The machine will be shipped in a wooden crate, make sure to have at least two people to help assist in moving the machine as it is quite heavy.
Step Four: Sample Hair Mats and Scrim
Upon receiving your MOU and mailing address, we will send you two sample hair mats and one sample scrim.
One hair mat and one scrim can be put on the wall while the second hair mat can be brought to potential buyers for them to see.
Step Five: How to Make Hair Mats
Sort:

Hair, fur and fleece needs to be sorted into long hair, which is 4 inches (10cm) and longer, and short hair which is a minimum of 1 inch (3cm). Anything shorter can go to compost or into your garden. There

needs to be absolutely no debris

or it will damage the machine's needles (rocks, rubber bands, pins, food, aluminum wrappers, paper, sticks, etc). Mark reusable large plastic bags

short hair

and

long hair

. Weigh each bag for 100 grams and have many ready before you start making your mats.
Sorting out trash takes the longest time, so education on how even 5% of contamination in raw materials can ruin the batch is probably one of the most important components of this entire program. As well as of every recycling effort in the world!
Start Scrim:

A scrim is an outer layer framework of long hair. We use a 60 cm wide tray and make a scrim that is 60 cm wide by 80 cm long. Lay hair strands of 4 inches or longer out in a criss-cross pattern on the feeding tray. You will need two scrims per mat. Each 2 ft by 2 ft scrim (60 cm by 60 cm scrim) is usually 100 grams, or 3.5 ounces.
SAFETY FIRST: Felting needles are very sharp so keep hands at least 1 inch (2cm) away from them when the machine is in use. Felters under the age of 18 should be supervised.
Feed Scrim:

Start up the felting machine and slowly push fiber from the feeding tray toward the rollers and needles going up and down. Pass it through the machine two times. This can be done by one pair of hands but works best with two people, one on each side of the machine. One person pushes the scrim into the needles and the other person gently pulls the scrim as it comes out on the other end.
4. Lay Out Scrim: Scrims hold the filler fiber in-place. Take one scrim and lay it crosswise on the bottom of the tray, so that the 80 cm is hanging over the edges by 10 cm each of the 60 cm tray. It is crucial to have the borders of the scrim hanging out over the edges of the intake tray – they will be folded over after stuffing.
Instructions for a 2 ft by 2 ft by 1 inch mat (60 cm by 60 cm by 2 cm), weighing 2 lbs (around 700-900 grams depending upon hair / fur / wool % donations) total; 2 scrims, 4 ounces (100 grams) each; filler, 1.5 lbs (500-700 grams).
Fill Scrim:

Fill in the scrim with shorter hair, fur, fleece fibers, one inch or more, stuff them in evenly. We find ~500-700g+ of stuffing makes a good, solid 2 ft by 2 ft by 1 inch mat. It's 1.5lbs at most. Make certain the stuffing evenly covers the entire scrim within the tray. Once you have finished, fold back the portions of the scrim that are hanging over the edges of the tray.
6. Lock Scrim: Remove the top roller bar and run this through the felting machine two times. Then remove mat, lay down the second scrim same way as the first hanging over the edges by 10 cm or so each side.  Turn the mat 90 degrees and lay it upside down on top of the second scrim. Fold back the edges of the second scrim, so that now all edges and both sides of the mat are covered in scrims. Run this mat through the machine one more time and then run each of the four edges through the machine one more time just to ensure a sturdy, solid mat.
Not including how long the sorting takes, and depending on how fast you get at making the mats, this laying and felting process can be done in 50 minutes or less.
Step Six: Financials & Finding Buyers
In the MOU we discuss how local industry is one goal of this project.  As a satellite you will be looking for buyers in your area.
In the US, Matter of Trust is currently working on contracts re 3000 mats for water filtration. In other parts of the world we are just starting to see partner sales.
The MOU discusses %:  95% of revenue from sales goes to whoever makes the mats.  5% of revenue will go back to Matter of Trust for the Clean Wave fund when MATTER OF TRUST sources the clients and sales.
Good faith, we would love that when YOU source the clients and sales, 5% of revenue from sales is donated to Matter of Trust for the Clean Wave fund. We are not going to follow up on this, this is a handshake, we are called Matter of Trust for a reason.  Donors get a tax deductible receipt for their donation of the 5% to our charity.  
Everyone we work on with this project has come here because they want to help the environment and believe in the power and importance of cottage industry.
This project is meant for supplemental income, it is growing and facing the oil industry. It is hardly a cash cow at this early stage, but it is very important.
Note: The price of a hair mat will vary greatly based on location. For example: a hair mat priced in Helsinki, Finland or San Francisco, California is vastly different than Santiago, Chile or Karachi, Pakistan. The reason our charity has taken on this work is partially to help subsidize this diverted waste stream product the way that oil is subsidized for petrochemical compounds and polypropylene mats. We intend to help our partners find price points for hair mats sales in their parts of the world.
We have flyers and research papers for you to use at no cost to you. 
We're always happy to join meetings you set up with end users / municipalities / universities, and help in any way we can. 
End users pay for shipping and handling of hair mats.  Those costs should not be yours.
Step Seven: Check out our Partners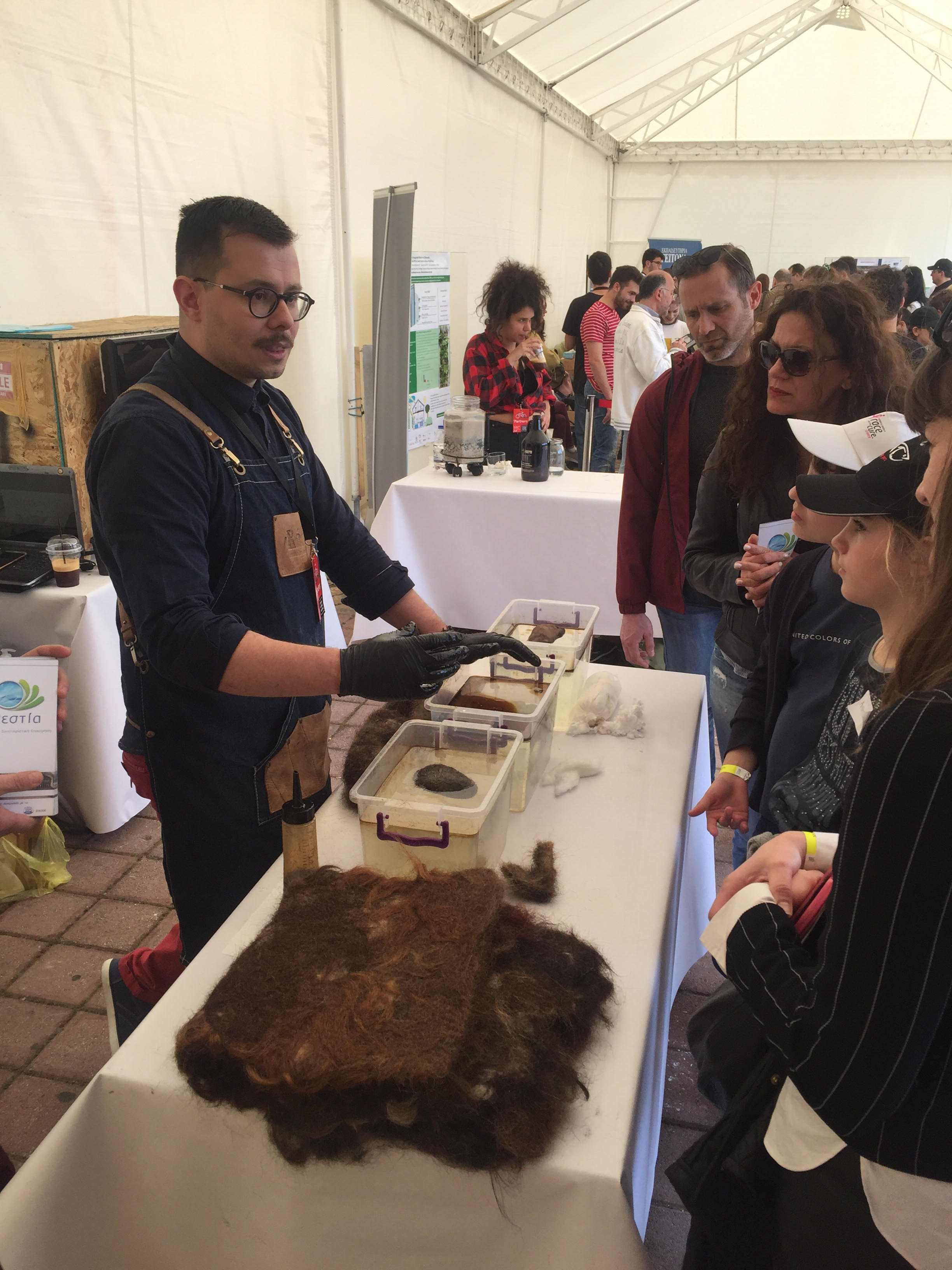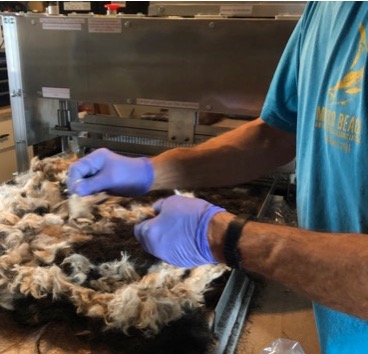 Kevin R. prepares hair mat by filling scrim with shorter hair, fur, fleece fibers.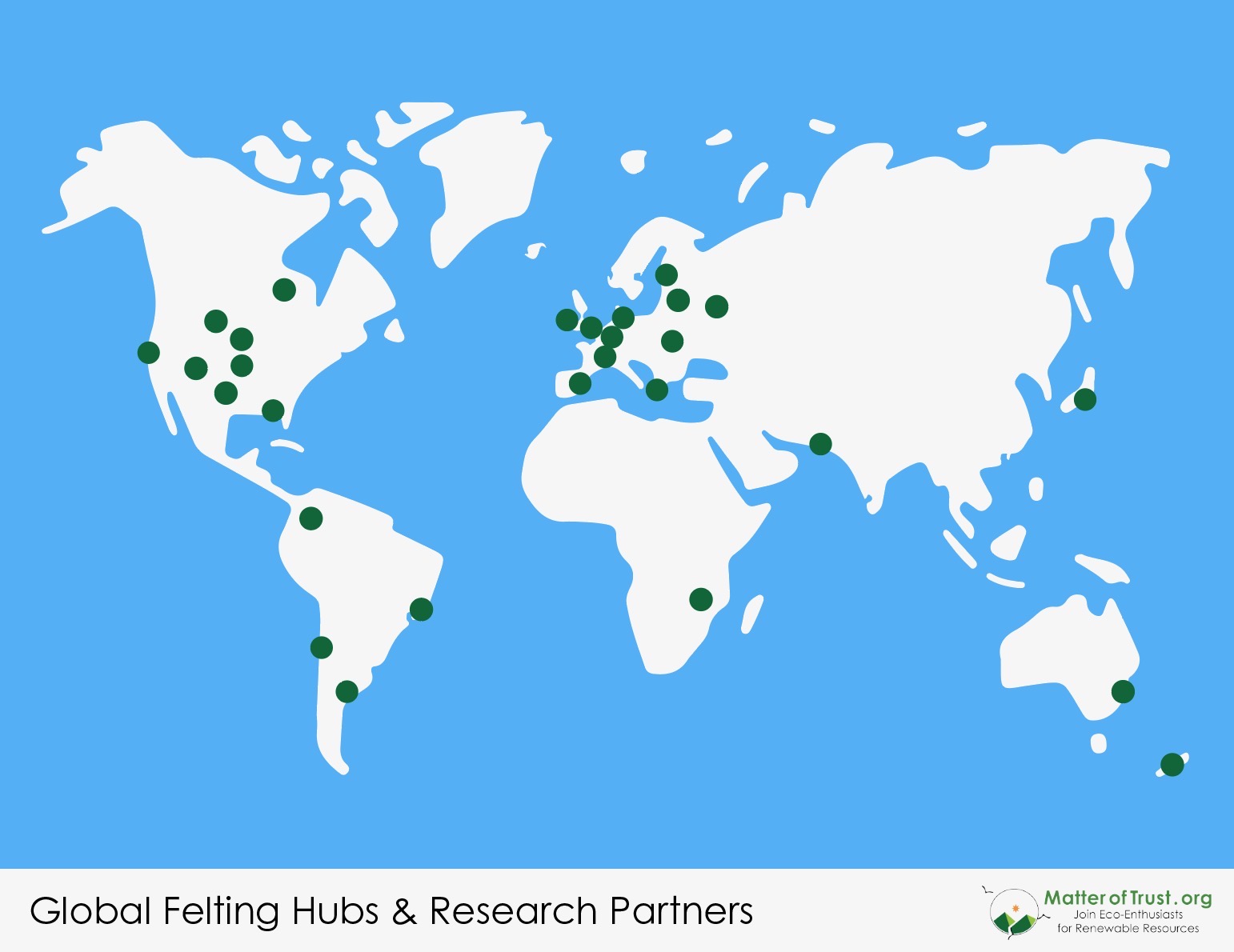 Photos and blurbs on each satellite and links.  We need to say – they are all working with the hum sum and do not send fiber directly as addresses change and no-one wants to see donations returned to sender!
Step Eight: Assistance with Pilot Projects / Volunteer
If you are interested in making hair mats or the program in general and want to volunteer, we are excited to work with you!
You can either felt mats at Matter of Trust's flagship model factory, one of our satellites, or see how you can help us from home.
Check out our flyer and catalogue
Thank you for your interest and support!