by Ben Messenger – 10/27/2016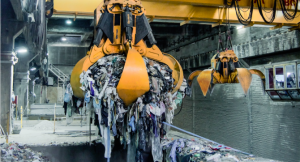 Finnish lifting equipment specialist, Konecranes, has introduced a range of lifting and material handling technologies specifically designed for waste to-energy and biomass applications in the Middle East.
According to the company the gulf region produces around 150 million tonnes of waste annually with vast quantities bound for municipal dumps and landfills.
However, with the growing population, urbanisation and economic expansion, consumption rates are growing while at the same time, the generation of solid waste amplifies. Konecranes said that in order to address this issue, the region is looking to invest in waste to energy facilities
The company explained that cranes play a crucial role in modern waste to energy plants, from the arrival of waste to separation and incineration. If cranes stop, the process is crippled and production halts.
To date, Konecranes said that it has delivered 668 cranes to 428 renewable energy plants worldwide, of which a large proportion are capable of operating in full automation. Automation
One of the features the company said could benefit the raft of potential new waste to energy plants in the Middle East is its new standard solution for programming waste to energy automation is a Main User Interface (MUI).
This computer is integrated with the crane's PLC system and allows the operator to schedule and program 20 different work routines in full automation, giving plant managers enhanced flexibility to manage pit operations for receiving, mixing and burning waste.
"Konecranes has a variety of automation modes available to suit operational needs. These range from semi-automation (which is an operator initiated but PLC controlled feeding of the hopper in automation) to full-unmanned automation which includes all feeding, mixing and receiving operations," explained Joseph Botros, Konecranes head of  waste to energy.
"Essentially, completely autonomous crane pit operations can be managed via our Main User Interface. Automation helps improve facility safety, load travel accuracy and performance efficiency," he added.
read the original article here: https://waste-management-world.com/a/konecranes-eyes-middle-east-waste-to-energy-expansion