Did you know, on average, Americans throw away 250 million tons of garbage annually? According to the Massachusetts Institute of Technology's Urban Sustainability Project report from 2014, aimed at identifying effective urban sustainability initiatives, 183 communities in 18 different cities are now running a curb to compost program. These programs are aimed to increase recycling awareness and reduce waste sent to landfill facilities. While these programs benefit the environment, the biggest reason for the increase in recycling activity is simple: The landfills are full. Commercial properties and residents alike are sorting their waste in order to generate new sources of power and reduce garbage costs.
How Does It Work?
Participating local governments and waste collectors have their own methods of collection, sorting and composting. While each program may be different, the ideology is the same. Much of the cost of Curb to Compost programs is on educating the population. If we understand not only the necessity for better recycling and active composting, but also how easy it is, we are more likely to do it.
Compost pick up is hassle-free: Residents and commercial facilities simply have to sign up with their particular waste management or compost company to be included in a weekly, rotational pick up. Use a designated paper bag or plastic bin throughout the week and on pick-up day some companies even offer to thoroughly clean the receptacle for you.
Your waste management company takes the compost to a composting facility to begin the natural composting process. Machines grind the compost down into small bits, the perfect size for microbial decomposition. Compost usually moves to outside covered areas to continue the process and encourage the microbes with their work. Composters often utilize fabric structures that are durable yet cost-effective, to protect the compost from outside elements and control the odor and the timing of the process.
Once the compost is ready for use, farmers and local participants use the organic compost to enrich their soils and reduce the use of chemical products.
What Can Be Composted?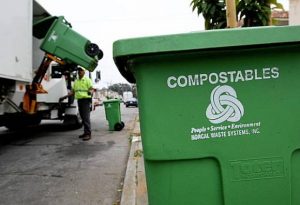 As a guideline, compost is food scraps and food soiled paper products, including:
All food products including bones and meat
Broken egg shells
Fruit peels and inner cores
Tea bags and coffee filters
Soiled pizza boxes
Paper cups, plates and napkins
Soiled Paper towels
What Happens to Yard Waste?
Yard waste accounts for 20 percent of garbage collected in the United States. What could be returned to nature in a repeat fertilization cycle, turns into truly useless waste at landfill facilities. Composting is also available for large piles of leaves or tree and yard clippings. Of course, one must be careful not to put them into plastic bags as plastic cannot be composted.
Use biodegradable paper bags to collect leaves and branches.
Do not include dirt, gravel, rocks or concrete.
Arrange for a pick up by your local compost waste manager.
As organic materials, yard clippings are useful in landscape maintenance. Yard clippings usually create a more time-released fertilization, better for the root system, and reduce the need for excess fertilizer.
What Are Benefits of Composting?
For avid gardeners and small farm owners, composting offers solutions to growing problems and benefits you might not have considered. According to a study by Washington State University, dozens of farmers are already composting, and have been for years. The farms see crops that not only look stronger and healthier, but taste better, too! Additional benefits include:
Soil That Breathes Better – Combining organic materials with inorganic rocks and soil allows for more oxygen to flow through the soil and neutralize the pH levels. Water, energy, air and roots have room to move where they please.
Nutrients Galore – With composting food and yard waste you can expect many worms to crawl in and around your garden. These creepy crawlers thrive in environments that host a multitude of micro- and macronutrients such as nitrogen, phosphorus, magnesium and zinc.
Fewer Chemicals – By using organic compost solutions, farmers see fewer problems with pest infestations. Fewer pests in the garden or crop lead to fewer chemicals needed to ward them off. With a reduction in chemical usage, many farmers notice a positive impact on their crops.
Curb to Compost Solutions Where You Live
While the benefits are clear, not every town or city has a Curb to Compost program. Now is the time to reach out to your local waste management provider and find out what compost and recycling systems are in place or when you can expect to see them in the future.