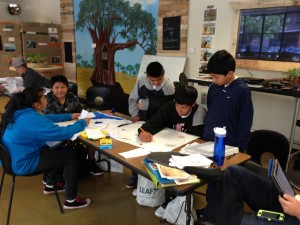 Back to School! Come bring your class on a field trip to our new Eco-Center
Since 1998 at Matter of Trust, our mission has been to produce solutions for bringing manmade surplus into balance with society's needs;  to highlight abundant, renewable resources;  and to deliver Eco-Educational programming.  We follow Mother Nature's lead by integrating enduring cycles, acting as a catalyst, and providing access to necessities.  We celebrate vocational expertise, promote peace of mind and mobilize positive cultural shifts.  We implement the best ideas and are proudly participating in a harmonious eco-industrial revolution.  We do all this to enthusiastically concentrate on what we DO want to see for the future of our environment.
As of June 2013, The Matter of Trust Eco-Center is orchestrating our mission with direct community input from the vibrant San Francisco Bay Area Mission District and beyond.
We envision an ecological future where humanity embraces optimism, harmonizes with Mother Nature, sorts waste into resources and considers Earth to be Matter of Trust.
Come by and check out our Exhibits, Courses, Events, School Field Trips, Visitor Activities, Kids B-earthDay Parties, Eco-Baby Showers, delightful General Store and more!
Eco-Center Seasonal Themes
2013 Summer
Solar    Water     Food      Music
2013 Fall
Abundant Harvest      Back To School
2013 Winter
Warmth      Celebration of Giving
2013 Spring:
Spring Cleaning      New Birth