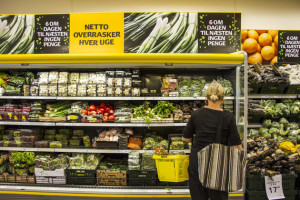 Could the Danes hold the key to addressing global food waste?
Food waste in the country is down 25 percent over the past five years — the highest waste reduction in the European Union, the Copenhagen Post reported earlier this year. According to NPR, the average Dane throws out 104 pounds of food annually, compared with a whopping annual estimate of 273 pounds for each American.
Stop Wasting Food, an advocacy organization backed by Selina Juul, has been credited with the decrease. So have grocery chains like Dansk Supermarked, which sells food nearing its expiration date at a reduced price in a specially-marked, dedicated area rather than discarding it. Dansk is also utilizing a new IT system to keep better track of what types of inventory most frequently go to waste, NPR reports. When that system identified bread as the top culprit, the chain started to order less and dedicated more space to sell bread nearing expiration at a reduced price. These efforts reduced their bread waste by 60 percent.
read more original article Huffington Post Green