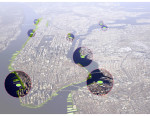 New York City produces over 14 Million tons of trash every year with most of it trucked long-haul to out-of-state landfills. In a typical year, it spends more than $300 million dollars on trash transport while incurring a hefty environmental bill along the way.
The Green Loop is a composting hub and park, and part of a larger proposal for a network of ten  waterfront composting hubs in New York City. country skiing in the winter. New York City has less open space per person than almost every major city in the country, and the Green Loop alleviates two major urban problems at once.
This proposal will create a network of composting parks processing our organic waste (30% of our residential waste stream), while adding 125 acres of public park land. This means drastically reduced truck miles to landfills, decreased traffic, noise, and pollution, with the added benefits of safer streets, cleaner air, and fewer greenhouse gas emissions. Plus a new type of public park and a product for market – nutrient rich compost made in NYC.
read more original article Present Architecture