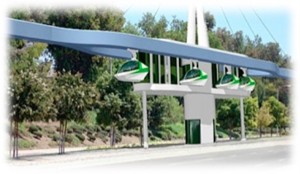 Remember the Shweeb? It's the pedal-powered monorail transit system that won a million bucks from Google. It started in an amusement park in New Zealand, but now it's being proposed as a real transportation demonstration project in Niagara Falls, Canada.
Shweeb SkySMART is poised to be the sustainable transit solution that puts an end to gridlock everywhere. So why PRT you ask? PRT is the on-demand transit missing link between personal transportation and mass transit. SkySMART removes fossil fuel burning vehicles from our congested roadways and creates a myriad of health related benefits at a much lower cost. Unlike conventional transit which leaves on inconvenient set hourly schedules, Shweeb's SkySMART is an on demand service, meaning it leaves when you arrive saving you precious time.The technology has been updated from the original Shweeb, so it now comes with solar powered electric assist. There is some Google juice added as well:
SkySMART will use Google "RoboCar" technology to manage the on demand pod deployment. Pods are ready when you arrive, so no waiting in long lines.
Steven Bieda of Shweeb-Can tells TreeHugger that "SkySMART may prove to one of the most disruptive technologies to be introduced this generation with huge implications for mitigating climate change while spurring along the cleantech economy through infrastructure building projects."
read more original article Treehugger