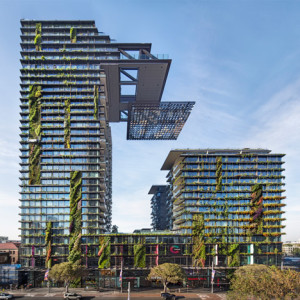 A residential building in Sydney has been named the best tall building in the world. One Central Park by French design group Ateliers Jean Nouvel and Australia's PTW, beat 87 other international entries to top the list, and was commended for its visible use of green design.
The building's key features include hanging gardens, a cantilevered heliostat, an internal water recycling plant and low-carbon tri-generation power plant. One Central Park has been awarded a five-star green star by the Green Building Council Australia.
The award was given on 7 November by the Council on Tall Buildings and Urban Habitat (CTBUH) based at Chicago's Illinois Institute of Technology.
The council's executive director and competition juror Antony Wood said of the winning work: "Seeing this project for the first time stopped me dead. One Central Park strongly points the way forward, not only for an essential naturalisation of our built environment, but for a new aesthetic for our cities – an aesthetic entirely appropriate to the environmental challenges of our age."
French landscape artist Patrick Blanc was commissioned to design the 1,120 sqm of vertical gardens that cover the surface of the building. 35,200 plants and 383 different species were used, including some natives such as acacias.
read more original article The Guardian