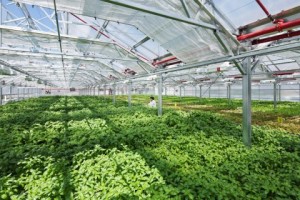 In April, the eco-friendly soap manufacturer Method opened up its newest factory on Chicago's South Side. This is no ordinary factory — the $30 million space is equipped with three solar "trees" that move with the sun and a 230-foot-tall wind turbine. Combined, the on-site renewable energy sources generate a third of all energy for the building.
But the most innovative element of the factory — designed by William McDonough + Partners and Heitman Architects— is on the roof, where a a 75,000 square foot greenhouse is set to be fully planted this fall. When complete, the space will be the largest rooftop greenhouse in the world, growing up to one million pounds of greens each year.
For some perspective on the size of the greenhouse: the average size of a city block in many parts of the U.S. — including Portland, Oregon and Houston, Texas— is 67,600 square feet. An NFL football field is 57,600 square feet. This greenhouse is larger than all of these things.
Read more original article Business insider