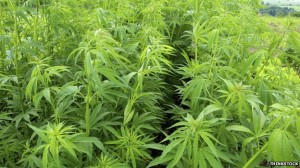 The waste fibres from hemp crops can be transformed into high-performance energy storage devices, scientists say.
They "cooked" cannabis bark into carbon nanosheets and built supercapacitors "on a par with or better than graphene" – the industry gold standard.
Electric cars and power tools could harness this hemp technology, the US researchers say.
They presented their work at the American Chemical Society meeting in San Francisco.
"People ask me: why hemp? I say, why not?" said Dr David Mitlin of Clarkson University, New York, who describes his device in the journal ACS Nano.
"We're making graphene-like materials for a thousandth of the price – and we're doing it with waste.
In countries including China, Canada and the UK, hemp can be grown industrially for clothing and building materials.
But the leftover bast fibre – the inner bark – typically ends up as landfill.
Dr Mitlin's team took these fibres and recycled them into supercapacitors – energy storage devices which are transforming the way electronics are powered.
Releasing this torrent requires electrodes with high surface area – one of graphene's many phenomenal properties.
Stronger than diamond, more conductive than copper and more flexible than rubber, the "miracle material" was the target of a £50m investment by UK Chancellor George Osborne.
read more original article BBC News