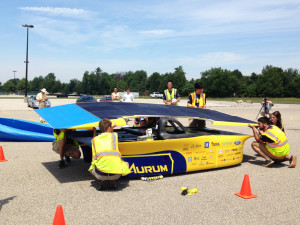 Later this month, 30 experimental race cars powered only by the sun and built entirely by college kids will take off on the World Solar Challenge, an epic 1,800-mile race across Australia that draws some of the best engineering students in the world.
Seventeen of those students are from the University of Michigan, and they've spent about a month Down Under preparing their car, a sleek, futuristic machine called Aurum. Michigan is a top-tier solar racing team and a veteran of this race, but with five third-place finishes, it's tired of being an also-ran. It wants the title.
And it's looking to IBM for help winning it.
The team tapped Big Blue and its new weather forecasting tool, which ramps up forecast precision by combining on-the-ground measurements with a deep archive of past data. The idea is to determine exactly when and where the team can optimize its performance, using technology that solar power plants can use to predict and manage production, making our aging grid more flexible and adaptable to renewable energy.
The Car
The Michigan crew is one of 30 descending on Australia from around the world. They'll set off from Darwin, on Australia's northern coast, on October 18 an spend one week racing south to Adelaide, on the opposite side of the continent.
The route will take them through a vast, punishing desert on a journey of four to seven days, depending on the weather and how Aurum performs. Like everyone else, the team will camp each night, and though they're bringing a portable grill, they're ready to eat a lot of PB&J along the way.
The World Solar Challenge is a biennial event, so the team's had some time to improve on its last racer, Generation. This year's car is more aerodynamic, the result of hundreds of iterations tested in computer simulations and a wind tunnel. Aurum resembles a catamaran on wheels, its "hulls" covering the wheels and its "deck" covered with 65 square feet of solar panels. The 5 kilowatt-hour lithium-ion battery and DC brushless motor are quite capable of propelling the carbon fiber car—which weighs 550 pounds with the driver—to highway speeds, but don't expect to see it in the fast lane.
read more original article Wired