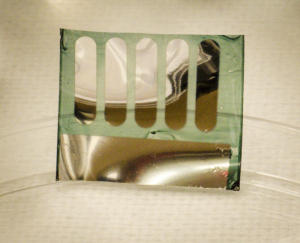 Solar cells are just like leaves, capturing the sunlight and turning it into energy. It's fitting that they can now be made partially from trees.
Georgia Institute of Technology and Purdue University researchers have developed efficient solar cells using natural substrates derived from plants such as trees. Just as importantly, by fabricating them on cellulose nanocrystal (CNC) substrates, the solar cells can be quickly recycled in water at the end of their lifecycle.
To date, organic solar cells have been typically fabricated on glass or plastic. Neither is easily recyclable, and petroleum-based substrates are not very eco-friendly. For instance, if cells fabricated on glass were to break during manufacturing or installation, the useless materials would be difficult to dispose of. Paper substrates are better
for the environment, but have shown limited performance because of high surface roughness or porosity. However, cellulose nanomaterials made from wood are green, renewable and sustainable. The substrates have a low surface roughness of only about two nanometers.
read more original article Science Daily