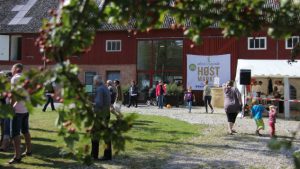 Hovmand-Simonsen is committed to "helping consumers learn to taste again and to appreciate the difference in flavors" as well as providing healthy food farmed with love. The inspiration behind her philosophy in farming came at a very young age. "When I turned 14 years old my mom became very sick because of food allergies. She went to intensive care several times and as a family we had to understand how we were producing food and what that food was doing to us. The experience totally converted the life of our family and how we looked at food … we started to become interested in organic food."
The family's interest turned into a daughter's passion, one that lead to the largest conversion from conventional to organic farming in Denmark's history. Just a year after taking over the family farm in 2006, Hovmand-Simonsen managed to convince her investors to support the conversion (the negotiations involved several heated discussions and an exhaustive 120-slide PowerPoint presentation).
Knuthenlund's 940 hectares (2,323 acres) were converted into organic agriculture, and that was just the beginning. Susanne Hovmand-Simonsen has continuously expanded the scope of what organic farming, land management, and animal husbandry, mean to her. "After having worked with organic production for some years I realized that we needed to go even further, and that organic food could also be industrialized. I realized that we needed to implement a more holistic way of looking at our nature, the animals, the food production, in order to reach the quality both healthwise and tastewise."
As a result, the team at Knuthenlund has not only nourished and revived the land, but they've also reintroduced local species to Danish consumers. "We hired a cultural sociologist to investigate what kind of wild berries and herbs could be found on Knuthenlund," Hovmand-Simonsen explains. Introducing biodiversity into the farm has involved scientific research and consulting, but it's an important part of the farm's identity. "We've worked with researchers from various universities in order to incorporate the herbs in our production. The wild herbs are the starting point in feeding of our animals but also in our product development in our charcuterie production." Native herbs make up part of the diet of Knuthenlund's heirloom animals, such as the original Red Danish cow and the original black-spotted Danish landrace pig, as well as a few Danish landrace chickens.
read more original article Paste