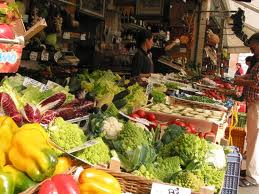 Wed., Oct. 9 – Ingredients – at the Matter of Trust EcoCenter, 3338 17th St., SF – an exploration of the growing local food movement – showing how partnerships between local farms and the communities they serve can le…ad to healthy sustainable food supplies. Film will begin at about 6:45. Preceded at 5:45 by locally sourced, non-GMO reception catered by Namu Gaji, a local Korean restaurant here in the Mission. The film will be followed by a discussion of the slow food movement and the process by which restaurants and schools can make healthy choices in their food sourcing.
Post-screening speakers will include:
Casey Dos Santos Allen, an urban farmer who installs, maintains, & harvests from his clients' backyards – a modified csa – and is very involved in the organic and local food movement. He is Yerba Buena Chapter President at California Native Plant Society, the Landscape and CSA Maintenance Manager at San Francisco Landscapes Corp. and sits on the San Francisco Bicycle Advisory Committee. Specialties include: Permaculture, native plant, food, and habitat gardens.
Jered Lawson, farmer and founding partner of Pie Ranch. Jered has been linking communities with local farms since 1990. He initiated and coordinated Community Supported Agriculture (CSA) programs at the Homeless Garden Project and the Center for Agroecology and Sustainable Food Systems. Jered also initiated and coordinated a statewide CSA advocacy, outreach, and educational program for the Community Alliance with Family Farmers (CAFF), and organized a Western Region CSA conference that brought together over 450 farmers, consumers, educators, and agency representatives. Jered worked with Center for Ecoliteracy in Berkeley for three years and again for CAFF to launch their Farm-to-School programs, Food Policy Councils, and 'buy local' campaigns.
Jenny Huston, founder of Farm to Table Food Services in Oakland and currently a member of the Oakland Food Policy Council. San Francisco native Chef Jenny Huston has 30 years of wide-ranging experience in the restaurant and food services industry. A formally trained chef and professional cook, Jenny has worked with Patrice Boely, Thomas Keller, Alice Waters, Joyce Goldstein, Jeremiah Towers, and Patty Unterman in the San Francisco Bay Area and New York City. Jenny owned and operated J. Huston Catering and consulting for 17 years, while earning academic degrees from San Jose State University in Dietetics, Food Sciences, and Management, and her Masters from New York University in Food Economics, Policy, and Food Systems.