I have always been fascinated by random Broadway marketing ideas. Before I started in the industry, I actually thought they were meant to (directly) sell tickets. Now I realize that they are primarily designed to garner publicity, thereby hopefully selling tickets somewhere down the line. No one is buying a ticket to an off-Broadway comedy because Ben's Deli unveils The Circumcise Me BRIS-ket sandwich, but if the meat gets some coverage for the show, then mission accomplished.
Comprehending what these events are all about doesn't necessarily mean I always understand the choice of event. Sometimes I get releases and think: "Who would ever attend this?" Actually, in all the years I've been covering theater, I've never been to one of these things. Until now. On May 24, I attended the "cut-in" that the cast of Hair was hosting at Bumble and bumble. The concept was ridiculous, yet appealing: for four hours, attendees would receive free haircuts and the hair clippings would be donated to Matter of Trust, an environmental non-profit that turns hair into oil-absorbing booms.
I arrived an hour into the event. At that time, thirty-two people were online and nine stylists were inside working some pro-bono magic. I admit, when I heard that stylists were giving hair cuts for the sole purpose of gathering hair trimmings, I felt those hair cuts would be Supercuts-esque at best. I have to hand it to Bumble and bumble, that couldn't have been further from reality. When I told Ben Trapold, Global Communications Coordinator for the salon, that I was picturing a single-length chop job, he stated simply, "That would not work here." Indeed–no matter how many people were waiting, the stylists took their time with each individual customer. I waited to see if the stylists' attention to detail lagged, but, no. Many of the customers played hooky from work to attend and therefore didn't want to be photographed, but I can vouch for the fact that some pretty sweet looks were created. Those who received hair cuts described them as "wonderful," "amazing" and "an incredible gift."
Ten Hair cast members were there, handing out Gerbera Daisies to attendees. "We at Hair like to practice what we preach," star Diana DeGarmo, who hung around talking to folks for almost three hours, said. (Her costar, Ace Young, was notably absent.) "When we found out hair would help in the Gulf, we at Hair thought we should help by giving hair."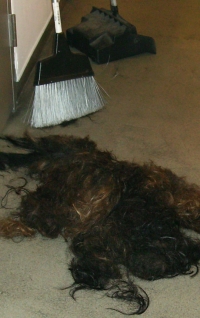 And Hair certainly supported a good cause. There seems no end in site to the problem that is the oil spill. Everyday the photos of the area get more frightening. "It's a cause that it is hard not to like," said one attendee. One woman was so excited about pitching in that she entered the salon to ask if she could cut her own hair and donate it! (She was told that would be impossible in-salon, but Trapold would try to get her in for an official cut before the 4pm stop or she could cut her own hair at home and bring it in.) Bumble and bumble will also be donating all additional hair cuttings they amass during the week for this initiative. Of course, that means very little to the 15 or so annoyed folks who waited in line yet did not get into the salon by the cutoff time, but, it is nice.
Note, there is some debate about what these fallen locks will even do. The weekend before the "cut-in" it came out that hair might not help the cleanup. BP released statements saying that there is no need for hair, the sorbent booms the company already operates are superior. However, Matter of Trust President Lisa Craig Gautier told me the Hair cuts will indeed be used for good. She explained:
"On May 15, a division of BP contacted us to say everything should come in–hair from alpaca, llamas, everything. Late Friday we got a call from the PR people saying they didn't want it… We were just stunned… We are now making boom ourselves by stock piling it in 19 warehouses donated along the Gulf Coast. This is a spill that no one has ever seen – we're not worried about this hair getting used."
Gautier said the only issue now was whether BP would use the booms (which can only be operated by professional hazmat teams) or they would go unused until municipalities began working on the cleanup.
So, the hair from the Hair/Bumble and bumble collaboration will be soaking up oil someday. A worthy cause was aided. As for if the show Hair reaped any benefit (other than goodwill), that is more questionable. Of the 12 attendees I spoke to, only one mentioned the musical. This despite the mingling cast members and ticket and merchandise giveaways. But, if someone reading this blog post, or anything else about the event, is reminded to see the show, I suppose mission accomplished.
View the story here.