Our ecological public charity concentrates on Surplus & Needs, Natural Abundance,
and Eco-Education
Exhibits
Our eco-spaces have permanent and guest exhibits that concentrate on:
Eco-Hub:  Clean air, water, energy, ideal materials and eco-industry
Eco-Home:  Mind, Body and Soil
Matter of Trust general themes:
 Surplus and Needs
Programs linking surplus with needs
 Naturally Abundant Renewable Resources
Celebrating how nature is abundant and always in balance
Eco-Education: 
Information – Visitors that come in on average 15 minutes or less (browse the gift shop, take a tour of exhibits, grab our flyers and partner pamphlets) impact is varied like throwing spaghetti at a wall and watching what sticks.
Education – Stays for over an hour during a field trip, corporate off-site, course, lecture, panel, roundtable… We collaborate and measure success by number of contacts who teach us and leave discussing our work and goals in their own words.
Inspiration – Sparks a long-lasting passion for ecology and love for the wonders of nature.
Transformation – Internship, green job, campaign, mobilization, partnership, purchase, support…) that promotes:
– small, personal eco-habit changes that accumulate over a lifetime
– trend setters to be eco-examples that ultimately create societal shift
Please let us know how we're doing! Here is our Feedback Form
---
Exhibits in the Matter of Trust Eco-Hub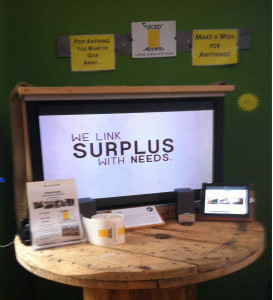 Excess Access
Learn more and register for Excess Access, a free program that sorts and matches surplus with those who need it. Come visit the Eco Center and learn how to post a wish and/or an item you want to give away.
---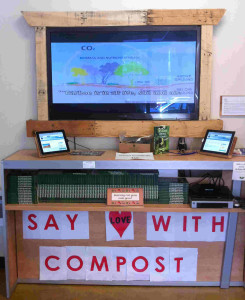 Global Compost Project
This exhibit serves to promote the sorting and collection of organic wastes; aid production and spreading of compost; restore healthy soils around the world and reduce greenhouse gas emissions. Join the fight against global warming and pledge here to sort your green waste!
---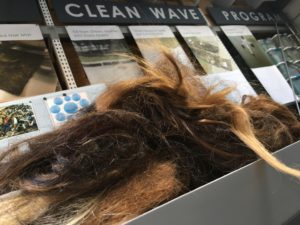 Clean Wave
Matter of Trust established the Clean Wave program to collect hair clippings and other waste fiber donations. We produce hair mats and "booms" (sausage shape), and coordinate with large-scale public efforts to clean contaminated waterways and storm drains.
---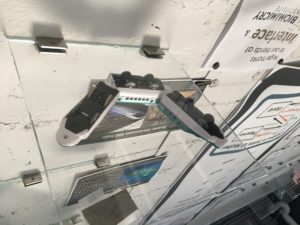 Biomimicry 
Come see cool innovations created using nature. 
The Biomimicry Institute empowers people to create nature-inspired solutions for a healthy planet.
---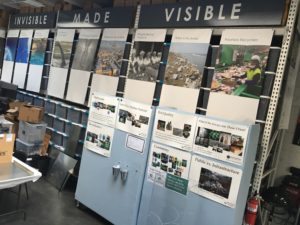 Invisible Made Visible
Learning about where your waste goes.
---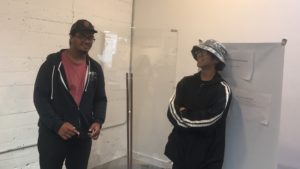 What is Energy?
Our Eco-Hub interns, Kaleo and Fortunato, proudly show off their Jacob's Ladder exhibit!
---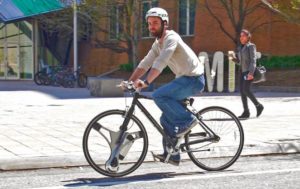 Clean Air
Matter of Trust has partnered with Inyenyeri, a fuel-utility company that provides clean cookstoves in Rwanda.
---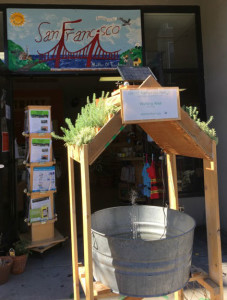 Good Karma Exchange
Check out our solar powered wishing well! A great way to contribute if you are unable to volunteer your time.
Visit Good Karma Exchange Page
---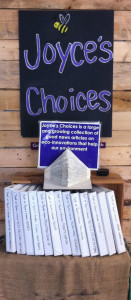 Joyce's Choices
Joyce's Choices is a large and growing collection of news articles on eco innovations that help our environment.
---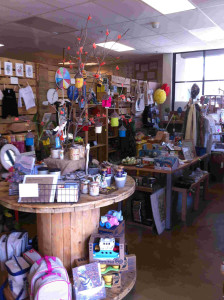 Eco Gift Shop
Come check out our Eco Gift Shop in our Eco-Hub, we stock high quality goods made by people dedicated to sustainability.
---