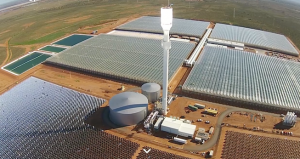 No soil, no pesticides, no fossil fuels, and no groundwater. And yet, a thriving farm in the heart of the arid Australian desert. How is this possible?
An international team of scientists has spent the last six years fine-tuning a system that pipes seawater in from the ocean and desalinates it using a state-of-the-art concentrated solar energy plant. The water is then used to irrigate 180,000 tomato plants grown in coconut husks instead of soil, kept in a network of greenhouses.
The result is Sundrop Farms, a commercial-scale facility located just off the Spencer Gulf in South Australia that began construction in 2014. Today it's producing an estimated 17,000 tons of tomatoes per year to be sold in Australian supermarkets.
Given the increasing demand for fresh water around the world — a problem that's particularly apparent in the sunburned landscape of South Australia — this might just represent future of large-scale farming, especially in coastal desert regions that have previously been non-arable.
The heart of the farm is the 23,000 mirrors that reflect sunlight towards a 115-meter high receiver tower. All of that concentrated sunlight produces an immense amount of power, up to 39 megawatts. That's more than enough to cover the desalination needs of the farm and supply all the electricity needs of the greenhouses.
The seawater, too, has other purposes besides just irrigation. During scorching hot summers, seawater-soaked cardboard lines the greenhouses to help keep the plants at optimal temperature. Seawater also has the remarkable effect of sterilizing the air, meaning that chemical pesticides are unnecessary.
All in all, the facility cost around 200 million dollars to get up and running. That might sound excessive, but in the long run the facility should save money compared to the costs of conventional greenhouses that require fossil fuels for power. It's a self-sustaining, cost-efficient design so long as the initial investment can be provided. Facilities similar to the Australian one are already being planned for Portugal and the U.S., as well as another in Australia. Desert areas like those seen in Oman, Qatar and the United Arab Emirates could be next in line.
"These closed production systems are very clever," said Robert Park of the University of Sydney, Australia, to New Scientist. "I believe that systems using renewable energy sources will become better and better and increase in the future, contributing even more of some of our foods."