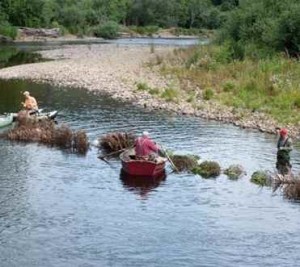 Before you kick your dying Christmas tree to the curb, consider this: Members of the conservation group Trout Unlimited would love to turn that tree into fish habitat.
On three Saturdays in January, the Tualatin Valley chapter of Trout Unlimited will be collecting Christmas tree donations at two locations in the Portland metropolitan area. Later, they'll place the trees into a side channel of the Necanicum River near Seaside, where they will provide predator protection and food sources for baby coho salmon.
The group is entering the third year of a program called Christmas for Coho. It's is one of many groups across the country turning old Christmas trees into fish habitat.
Similar projects have taken place in California, Missouri, Ohio and Louisiana.
read more original article Good News Network
http://www.goodnewsnetwork.org/earth/conservationists-turn-2013-xmas-trees-into-salmon-habitat.html