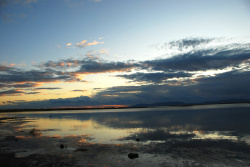 Chevron's third pipeline spill in Utah in as many years on Monday released hundreds of barrels of diesel, polluting a river, coating beavers with the slick, and leading to the closure of a state park and the evacuation of campers.
Dozens of cleanup workers are mopping up the fuel along the northeastern edge of the Great Salt Lake. An estimated 4,200 to 6,300 gallons of fuel leaked after a pipeline laid in 1950 ruptured.
The pipeline was shut down after the leak was detected. Diesel was blocked from flowing into the wildlife-rich waters of Willard Bay by a series of beaver dams.
Two hero beavers covered with diesel were rescued. The dam where they lived will be torn out.
read more original article Grist