Our ecological public charity concentrates on Manmade Surplus, Natural Abundance,
& Eco-Education
It's Easy Being Green – 2003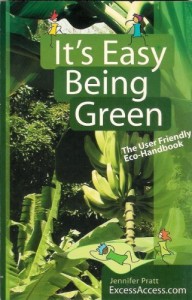 It's Easy Being Green © 2003 was written and compiled for our organization by Jennifer Pratt and edited by Lisa Craig Gautier (founder of Excess Access and Matter of Trust, Inc).
With 230 pages printed on hemp paper using soy ink, it is an edible and delightful guide to a convenient, green lifestyle offering hundreds of useful tips. See how small changes by individuals add up and actually create less work and more pleasure out of life.
It's Easy Being Green is a must-have for every bathroom reading stack.
Available for purchase on our online store here!
---
Document Attachments:
Total Attachments: 1
---
Date: 2012-01-14
---