Our ecological public charity concentrates on Manmade Surplus, Natural Abundance,
& Eco-Education
Field Trips

This page is being updated check back September 2017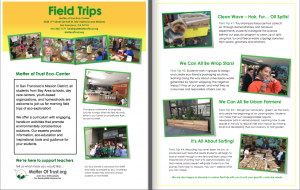 In San Francisco, all students from Bay Area schools, day care centers, youth-based organizations, and home schools are welcome to join us for afternoon field trips of eco-exploration!
We offer a curriculum with engaging, hands-on activities that promote environmentally conscientious solutions.
Our experts provide information, eco-education and inspirational tools and guidance for your students.
Clean Wave
You shampoo because hair collects oil. Through demonstrations and hands-on experiments, students investigate the science behind our popular program to clean up oil spills using hair, fur, and fleece waste clippings donated by salons, groomers and ranchers.
We can all be Wrap Stars!
Students work in groups to design and create eco-friendly packaging solutions, learning along the way about unnecessary waste generated by typical wrapping, the negative impact it has on our planet, and what they as consumers and responsible citizens can do.
We can all be Urban Farmers!
We get our hands dirty, 'green' up the room, and create the beginnings of an urban garden. Students can make their own biodegradable origami newspaper pots or vermacompost. Learning how to use spaces in the city to reduce their own impact by thinking local and developing their own balcony or roof garden.
It's all About the Sorting!
Recycling has never been this fun, or produced such beautiful results! Students will begin to look at waste through a new lens and learn about the importance of sorting trash into useful stockpiles. Our man-made surplus expert will guide students on the journey from trash to treasure. You won't believe what you can make!
We are also happy to develop a custom field trip with you that suits your specific curricular needs.
Field Trip Hours: 
Monday through Friday 12:00pm-4:00pm
Location: 
WE ARE MOVING to: Cole Valley Haight Ashbury, San Francisco, CA
TBA
Contact:
Email team@matteroftrust.org or stop by our Eco-Center to talk with our staff about scheduling your class's visit today!
---
FieldTripContract PDF document
http://matteroftrust.org/wp-content/uploads/2014/07/FieldTripContractPublic.pdf
Field Trip Survey
Please tell us about your experience with our field trips: Field Trip Survey Page