Our ecological public charity concentrates on Manmade Surplus, Natural Abundance,
& Eco-Education
The Global Compost Project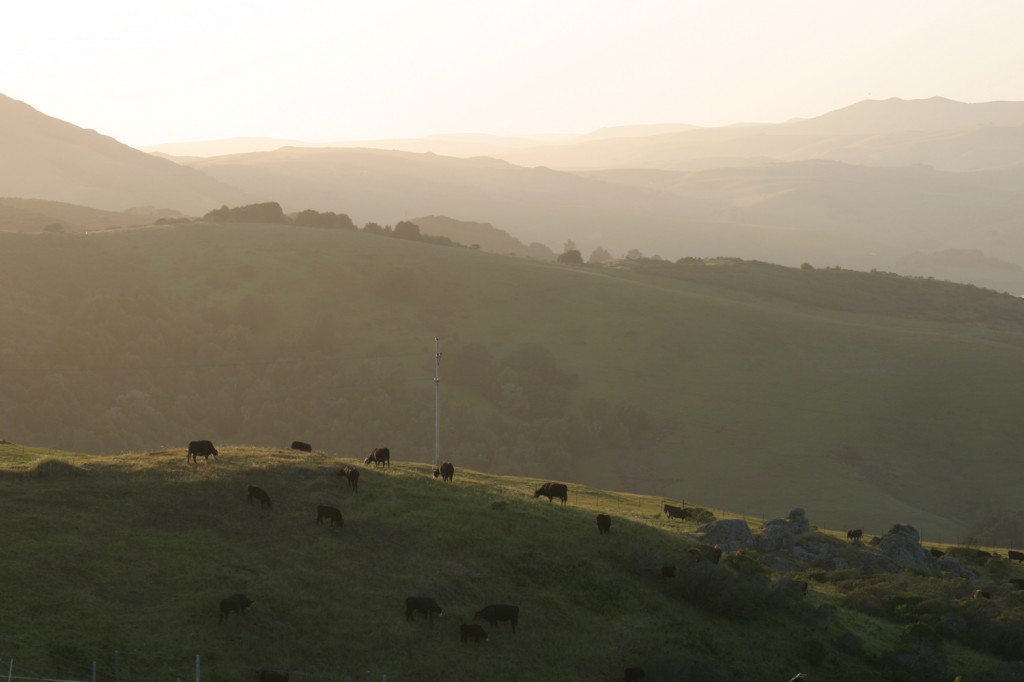 Nature is always in balance, but humans only thrive in certain environmental conditions.
"Right now, for much of life on the planet, there is Too Much carbon in the air and Too Little carbon in the soil."  John Wick, founder of The Global Compost Project.
The Global Compost Project is concentrating on a natural and simple way to reverse rising carbon levels and recycle carbon out of the air and back into the Earth.  The process is basically something we've all known about since the 4th grade.  It is called photosynthesis.
Only plants can produce something out of thin air and sunshine.  This is why fruit and vegetable aisles in supermarkets are called the Produce section.
Depleted soils are caused by pollution, pesticides, draughts, mono-cropping, tilling, mining, drilling, fracking, logging, slashing and burning, under grazing or over grazing, factory farming…  These practices are crashing our eco-systems and now even planted landscapes are off-gassing CO2!
There are many programs that reduce carbon emissions and these are healthy and important.
It also turns out that one easy, natural human invention is very important to boosting photosynthesis and cleaning up the mess we're in.  It is Compost!
Fertilizer is for plants.  Compost is for soil.
According to Lawrence Berkeley National Laboratory research models and the 7 year proof of concept at the Marin Carbon Project, by spreading just 1/4 inch of compost, one time only,  on grazed rangelands, soils naturally restart to sequester more carbon out of the air via renewed photosynthesis at the rate of 1 ton / per acre / per year for up to 30 years.  And there is no need to reapply the compost.
The results are delighting water conservationists, carbon cycle and climate change scientists around the world.  Compost replenishes the soil to balanced levels.  As if the eco-systems are rebooted, within one year native grasses and wildlife rebound and the carbon intake, increased forage capacity and water retention all fall into normal rhythms.
Grasses can withstand decades of drought and have roots that grow straight down, some even 30 feet into the ground,  pulling carbon deeper and deeper.  Trees are also very important in the carbon cycle.  Unlike grasses, they must grow near water sources and their roots that fan out horizontally.
Grazed rangelands are the most efficient as the animals eat the green tips and don't pull up the vital roots.  The grasses then continue to regrow more green tips and pull more in more carbon.  The key is to neither under nor over graze rangelands naturally working with the optimal strategy for each eco-system.
Decontamination of toxins, chemical, medicinal, hormone and synthetic compound breakdown can all be aided simply by thermophilic composting green and brown waste.  This is because natural bacteria in aerated compost rows are so active that the mounds reach up to 160 degrees F for at least 3 weeks.
Now we need huge amounts of Compost.  And sorted, uncontaminated compost is hard to find.  San Francisco, CA has a trailblazing green waste collection system.  This program has people inspect and cite the bins of households and businesses that have contamination like plastic, metal, glass in the mix.  This monitoring takes a lot of staff hours so it is part of a community volunteer project for those paying down too many San Francisco parking tickets.
The most common contamination is plastic bags.  Milan, Italy has solved this problem by having their garbage company provide all of their customers with free compostable bags for all of their waste.
In 2014, Matter of Trust partnered with John Wick on The Global Compost Project.
Our Goal is an awareness campaign and large scale green / brown waste recycling mobilization that creates enough compost to cover millions of acres of government owned grazed rangelands in the US and beyond.
To participate, simply sign up to our ExcessAccess program and pledge to contribute green waste to The Global Compost Project!
Resources and Collaborators:
John Wick Co-Founder, Marin Carbon Project http://www.marincarbonproject.org and Carbon Cycle Institute http://www.carboncycle.org
Dr. Jeffrey Creque – Co-founder of Marin Carbon Project and is an agriculture and rangeland consultant for Natural Resources Conservation Services http://www.marincarbonproject.org/about/jeff-creque
Rep. Jared Huffman – http://huffman.house.gov/about  John Wick will be testifying June 25, 2014 in front of the Congressional subcommittee on Natural Resources for public rangelands.
Dr. Whendee Silver – Carbon sequestration in rangelands, the effects of precipitation on soil respiration, controls on methane and nitrous oxide fluxes, measuring gentrification, and nitrogen and organic matter decomposition.   http://nature.berkeley.edu/silverlab/
Dr. Gary Anderson – PhyloChip DNA microarray technology for rapid profiling of microbial populations Lawrence Berkeley National Laboratory – http://www2.lbl.gov/tt/techs/lbnl2229.html
Dr. Gray Anderson –  DNA Everywhere – Genomic testing of human waste microbial communities at high temperatures for pathogen-free high-nutrient thermophilic compost in Port au Prince, Haiti  http://www.thermopileproject.com/dna-everywhere/
Dr. Sasha Kramer – Sustainable sanitation and brown waste systems.  Transforming wastes into resources in Haiti http://www.oursoil.org/   and Thermopile Project http://www.thermopileproject.com
Dr. Adam Chambers – Natural Resources Conservation Services USDA Air Quality and Atmospheric Change Team http://www.nrcs.usda.gov/wps/portal/nrcs/detailfull/national/contact/centers/wntsc/?cid=stelprdb1046243
Kevin Drew San Francisco Department of the Environment Solid Waste Management http://www.recologymedia.com/press_room/articles/pdf/2011/Story_of_Zero_Waste.pdf
Dr. Lorrie Flint and Dr. Alan Flint USGS Water Retention Soils Mapping http://ca.water.usgs.gov/projects/CA08E.html
Christopher Potter NASA CO2 Soils off-gassing satellite mapping http://www.casa2100.com/uploads/EI_CASA_07.pdf
Anthony O'Geen SoilWeb app UC Davis for soil types http://casoilresource.lawr.ucdavis.edu/soilweb/
Dr. Richard Teague – Texas A and M University Department of Eco-System Science and Management http://essm.tamu.edu/people/faculty/teague-richard/
John Kadyszewski – Director, American Carbon Registry holders of the protocol for compost application on grazed rangelands now in pier review with Environmental Defense Fund http://americancarbonregistry.org/
Dr. Keith Pautian, Dr. William Parton, Dr. Rich Conant – Carbon Credits Century Soil Organic Model – AB32 http://www.nrel.colostate.edu/projects/century5/
Rebecca Burgess – International regional strategic grazing and textile supply chains,  http://www.fibershed.com
Lisa Gautier – President, Matter of Trust – Green waste and composting campaign mobilization http://www.matteroftrust.org
11th Hour Project – The Schmidt Family Foundation http://www.11thhourproject.org/grantees/marin-carbon-project
Marin Community Foundation – https://www.marincf.org/impact/story-absorbing-carbon-on-marins-rangelands
Rathmann Family Foundation