Our ecological public charity concentrates on Manmade Surplus, Natural Abundance,
& Eco-Education
B'Earthday Parties

We are looking for staff to help set this up at the new Eco-Hub.
Eco-Center Kids B'Earthday Parties, Eco-Baby Showers and more…

Come celebrate your child's special day in a space of inspiration and fun! Our party package starts at $250, which includes two hours of fun for up to 15 children. We will provide eco-conscious decorations, supplies for an Earth-friendly and engaging project-based activity led by our staff, and compostable tableware for serving your refreshments. Party guests will also have access to our hands-on, educational exhibits. Parties can be extended and customized to meet each party's needs as you select from our long list of activity choices, just contact our fun staff at team@matteroftrust.org to find out more!
Party Themes
All themes are customizable based upon age, gender, and interest. Our party specialists will work with you directly to plan a party that matches you or your child's personality.
• Urban Garden
Frolic about as we get our hands dirty, 'green' up the room, and create the beginnings of an urban garden for each participant to take home. Parties can make their own biodegradable origami planters, seed bombs, or vermacompost!
• Eco-Spa
Have a fun, all-natural pampering party! Your party guests will mix up luxurious spa treatments from our natural ingredients. Experience self-created face scrubs and masks or make your own, chemical-free beauty products to take home, picking from lip balm, signature scent, or bath salts. Just a warning, peaceful relaxation might not be possible with all the laughter, chit-chat, and style advice, but their bodies will thank them for a chemical-free spa experience!
  (This party can also be tailored to adults!)
• Green Building
Our staff will lead party guests through the creative 'building' process of transforming materials (such as fabrics, corks, popsicle sticks, book bindings, egg cartons, films strips, and more) into an eco-model house, fort, or playground the perfect size for your doll friends!
• Eco Craftwork
Recycling has never been this fun, or produced such beautiful results! Our Surplus and Needs expert will guide party guests on the journey from trash to treasure. You won't believe what you can make! Choose from items such as cork boards, scratch-art CD's, hand-made doll pillows, pistachio florets, bottle cap art, button jewelry, superhero capes and masks, robot creations, or journals.
• Reuse Rhythms
Music matters! Party guests will learn how to use repurposed items to make a variety of musical instruments such as rain-sticks, shakers, pipe flutes, whistles, click clacks, glovaphone, straw horns and then have a performance parade!
Eco-Center Baby Showers
Instead of blue or pink, honor the mom-to-be with a green themed baby shower! By hosting your baby shower here you not only receive the inspirational space and access to our exhibits for two hours, but also eco-conscious decorations, supplies for an Earth-friendly game or craft project, and compostable tableware for serving your refreshments. We've got lots of fun craft ideas to choose from, all resulting in take-home goodies for the baby on the way or party guests themselves! Contact our party specialists today to talk about options for customizing your unique shower.
Pricing & Specifics:
$250 for two hour birthday party. One and a half hour is staff-led activity time which typically is time for two separate activities. Parent or Host has 30 minutes for food, cake and presents! Extra time, or extra activities can be accommodated for an additional fee.
For more information and to book your party, please contact team@matteroftrust.org or call 415-252-1177.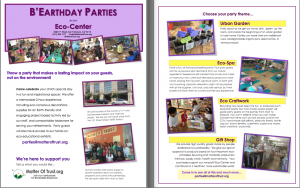 Parties-Contract
 PDF document
http://matteroftrust.org/wp-content/uploads/2012/07/Birthday-Parties-Contract-NEWest-.pdf
Event Survey
Completed feedback forms help us improve our programs and get support for the eco-center from foundations.