Our ecological public charity concentrates on Manmade Surplus, Natural Abundance,
& Eco-Education
World's Largest Indoor Farm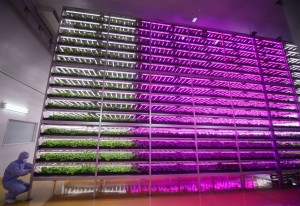 An abandoned Sony factory in Miyagi Prefecture, Japan, has been transformed into what could very well be the farm of the future.
Shigeharu Shimamura, a plant physiologist and CEO of
Mirai
, has constructed the world's largest indoor farm—25,000 square feet of futuristic garden beds nurtured by 17,500 LED lights in a bacteria-free, pesticide-free environment. The result? About 10,000 heads of fresh lettuce harvested each day.
The unique "plant factory" is so efficient that it cuts food waste from the 30 to 40 percent typically seen for lettuce grown outdoors to less than 3 percent for their coreless lettuce.
read more original article National Geographic
---
Date: 2014-08-08
---
agriculture
agroforestry
algae
alternative energy
batteries
bees
biofuel
bioplastics
carbon capture
carbon farming
carbon sequestration
climate change
CO2
compost
conservation
electric cars
farming
food
food waste
forests
fuel efficiency
green buildings
green energy
green roofs
innovative design
innovative products
nature's wonders
plastic
pollution
recycle
regenerative agriculture
renewable energy
repurpose
reuse
soil
solar
Tesla
trees
urban farming
waste
water
wave energy
wetlands
wind power
zero waste