Our ecological public charity concentrates on Manmade Surplus, Natural Abundance,
& Eco-Education
Solar-Powered Bamboo Carport That Charges Electric Vehicles With the Sun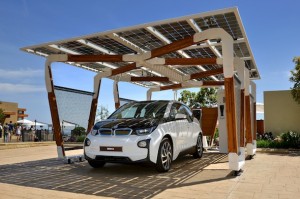 The German marque has already unleashed its revolutionary i3 model to much applause from customers and the motoring media alike, and it is poised to impress the world again with its all-powerful, electric-hybrid i8.
To support the launch of the aforementioned electric sports car in Los Angeles, BMW Group DesignworksUSA has produced a unique charging station that not only looks like a work of art but also harnesses the sun's rays to charge its range of electric vehicles.
Taking design cues from the simple wooden interior of the i3, the Solar Carport concept is predominantly fashioned from bamboo – a material that is considered particularly sustainable thanks to it rapid growth.
High-grade glass-on-glass solar modules top off the beautiful wooden structure, which generate a high energy yield and transfer the sun's rays into charge for the vehicle's batteries, from which the i8 can run for 22 miles without the need for traditional fuel.
read more original article AOL
---
Date: 2014-05-08
---
agriculture
agroforestry
algae
alternative energy
batteries
bees
biofuel
carbon
carbon capture
carbon farming
carbon sequestration
climate change
CO2
compost
conservation
electric cars
farming
food
food waste
forests
fuel efficiency
green buildings
green energy
green roofs
innovative design
innovative products
nature's wonders
plastic
pollution
recycle
regenerative agriculture
renewable energy
repurpose
reuse
soil
solar
Tesla
trees
urban farming
waste
water
wave energy
wetlands
wind power
zero waste