Our ecological public charity concentrates on Manmade Surplus, Natural Abundance,
& Eco-Education
Brooklyn's Barclays Center to Sprout a Giant Green Roof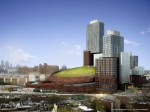 The Barclays Center is going green.
The Prospect Heights arena is set to get a massive vegetation roof that mega-developer Forest City Ratner says will beautify the view for future Atlantic Yards tenants and help quell neighbors' concerns about the bass boom of concerts and sports events.
"The roof is an amenity, but we acknowledge, of course, that it will probably do something about sound if we have that issue again," said Forest City Ratner spokeswoman Ashley Cotton. "It was the right time to introduce this concept as an amenity for all of the residents that will be surrounding the arena, and for people of the community."
The green roof will be partially funded by Greenland, the Chinese-government-owned developer that is buying the un-built portion of the hot-button development complex over and around the Long Island Rail Road train yard at Flatbush and Atlantic avenues.
The emerald ceiling will be built on top of the existing roof and will offer a lush view for inhabitants of planned apartment towers that will supposedly one day loom over the Barclays Center, but it is not a front lawn, Forest City insists. Residents and leisure-seekers will be barred from climbing around on the inviting turf, despite the ramp up to the window of one building and the 4-10-feet crawl-and-frolic space between the sod and the actual roof.
read more original article The Brooklyn Paper
---
Date: 2014-04-08
---
agriculture
agroforestry
algae
alternative energy
batteries
bees
biofuel
bioplastics
carbon capture
carbon farming
carbon sequestration
climate change
CO2
compost
conservation
electric cars
farming
food
food waste
forests
fuel efficiency
green buildings
green energy
green roofs
innovative design
innovative products
nature's wonders
plastic
pollution
recycle
regenerative agriculture
renewable energy
repurpose
reuse
soil
solar
Tesla
trees
urban farming
waste
water
wave energy
wetlands
wind power
zero waste