Our ecological public charity concentrates on Surplus & Needs, Natural Abundance,
and Eco-Education
Architect Uses Ancient Techniques To Cool Modern Building in India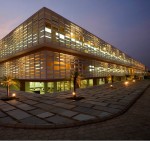 Before air conditioning was invented, people living in hot climates developed many different strategies for coping with heat, many of which have been forgotten or ignored. Architect Manit Rastogi or Morphogenesis designed the Pearl Academy of Fashion in Jaipur using a number of old technologies to create  "an environmentally responsive passive habitat."
The building is protected from the environment by a double skin which is derived from a traditional building element called the 'Jaali' which is prevalent in Rajasthani architecture. The double skin acts as a thermal buffer between the building and the surroundings. The density of the perforated outer skin has been derived using computational shadow analysis based on orientation. The outer skin sits 4 feet away from the building and reduces the direct heat gain through fenestrations, yet allowing for diffused daylight. The jaali thus, serves the function of 3 filters- air, light, and privacy.
The entire building is raised above the ground and a scooped out under belly forms a natural thermal sink which is cooled by water bodies through evaporative cooling. These water bodies are fed by the recycled water from the sewage treatment plant and help in the creation of a microclimate through evaporative cooling.
The materials used for construction are a mix of local stone, steel, glass, and concrete chosen keeping in mind the climatic needs of the region while retaining the progressive design intent. Energy efficiency is a prime concern and the institute is 100% self sufficient in terms of captive power and water supply and promotes rain water harvesting and waste water re-cycling.
read more original article Treehugger
---
Date: 2014-04-04
---
agriculture
agroforestry
algae
alternative energy
alternative fuel
batteries
bees
biofuel
carbon
carbon capture
carbon farming
carbon sequestration
climate
climate change
CO2
compost
electric cars
farming
food
food waste
forests
green buildings
green energy
green roofs
innovative design
innovative products
ocean plastic
plastic
pollution
recycle
regenerative agriculture
renewable energy
repurpose
reuse
soil
solar
Tesla
trees
urban farming
waste
water
wave energy
wetlands
wind power
zero waste