Our ecological public charity concentrates on Manmade Surplus, Natural Abundance,
& Eco-Education
WaterWheel Rolls Out Solution to Ease Heavy Load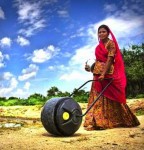 A U.S. based group called Wello has reinvented the wheel to help families in the developing world who don't have easy access to water.
Many people, including children, are spending a quarter to half of every day, hauling water on their heads. But, instead of carrying the heavy load, the Wello water wheel provides a way for anyone to easily transport 50 liters by rolling it.
Wello in 2011 worked in close collaboration with village residents in Rajasthan, India, to develop the concept, which won a $100,000 prize from Grand Challenges Canada.
read more original article Good News Network
---
Date: 2014-03-21
---
agriculture
agroforestry
algae
alternative energy
batteries
bees
biofuel
carbon
carbon capture
carbon farming
carbon sequestration
climate change
CO2
compost
conservation
electric cars
farming
food
food waste
forests
fuel efficiency
green buildings
green energy
green roofs
innovative design
innovative products
nature's wonders
plastic
pollution
recycle
regenerative agriculture
renewable energy
repurpose
reuse
soil
solar
Tesla
trees
urban farming
waste
water
wave energy
wetlands
wind power
zero waste