Our ecological public charity concentrates on Manmade Surplus, Natural Abundance,
& Eco-Education
15-Year-Old Develops Flashlight Powered by Body Heat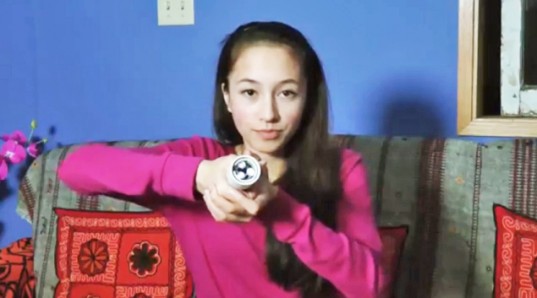 Ann Makosinski, 15-year-old Canadian student, created what she calls the "Hollow Flashlight," a device that harvests energy from the human hand to power itself.
Makosinski created a prototype using Petier tiles she bought on eBay, which produce electricity when one side is heated and the other cool. After tinkering with a few designs, she found that she could mount the Peltier tiles on a hollow aluminum tube that had been inserted into a PVC pipe.
She cut out a spot on the PVC tube where the hand could warm the tiles, while ambient air from the PVC tube cooled the other side of the tiles. The result was a flashlight that could shine for more than 20 minutes if the outside temperature was more than 5 degrees Celcius (about 34 degrees Fahrenheit).
The final prototype cost her US$26, but Makosinski believes the product could be produced in mass quantities for less.
In her project description, Makosinski wrote that she was inspired by the idea that humans are "walking 100 Watt light bulbs" whose energy could replace the battery's function in a flashlight.
Makosinski's project is one of 15 finalists picked from thousands of submissions from more than 120 countries. The theme for Google's 2013 Science Fair is "It's your turn to change the world."
read original article Technewsworld
---
Date: 2013-07-03
---
agriculture
agroforestry
algae
alternative energy
batteries
bees
biofuel
bioplastics
carbon capture
carbon farming
carbon sequestration
climate change
CO2
compost
conservation
electric cars
farming
food
food waste
forests
fuel efficiency
green buildings
green energy
green roofs
innovative design
innovative products
nature's wonders
plastic
pollution
recycle
regenerative agriculture
renewable energy
repurpose
reuse
soil
solar
Tesla
trees
urban farming
waste
water
wave energy
wetlands
wind power
zero waste