Our ecological public charity concentrates on Manmade Surplus, Natural Abundance,
& Eco-Education
A solar-powered plug that sticks to windows and out from the crowd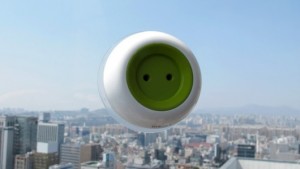 The creation of Korean designers Kyuho Song and Boa Oh, the Window Socket
is a portable, suction plate-based solar converter-charger that
functions as a standard (at this point, European) plug. Stick it on any
window — at home, in the office, car windshield, commuter train — where
there's decent sunlight, and the device automatically starts converting
sunlight into electric energy. Once fully charged – it takes about five
to eight hours — remove the Window Socket and you have yourself a
handy-dandy little outlet-on-the-go that maintains its charge for an
unfortunately short 10 hours.
read more original article MNN
---
Date: 2013-05-03
---
agriculture
agroforestry
algae
alternative energy
batteries
bees
biofuel
bioplastics
carbon capture
carbon farming
carbon sequestration
climate change
CO2
compost
conservation
electric cars
farming
food
food waste
forests
fuel efficiency
green buildings
green energy
green roofs
innovative design
innovative products
nature's wonders
plastic
pollution
recycle
regenerative agriculture
renewable energy
repurpose
reuse
soil
solar
Tesla
trees
urban farming
waste
water
wave energy
wetlands
wind power
zero waste