Our ecological public charity concentrates on Manmade Surplus, Natural Abundance,
& Eco-Education
Micro-Algae Lamp Absorbs 150-200 Times More CO2 than a Tree!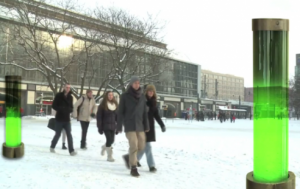 French biochemist and Shamengo pioneer Pierre Calleja has invented this impressive streetlight that is powered by algae which absorbs CO2 from the air. We have featured algae-powered lamps before but this one takes out 1 ton (!) of CO2 per year. This is as much CO2 as as a tree absorbs on average during its entire life.
read more original article Treehugger
---
Date: 2013-02-27
---
agriculture
agroforestry
algae
alternative energy
batteries
bees
biofuel
bioplastics
carbon capture
carbon farming
carbon sequestration
climate change
CO2
compost
conservation
electric cars
farming
food
food waste
forests
fuel efficiency
green buildings
green energy
green roofs
innovative design
innovative products
nature's wonders
plastic
pollution
recycle
regenerative agriculture
renewable energy
repurpose
reuse
soil
solar
Tesla
trees
urban farming
waste
water
wave energy
wetlands
wind power
zero waste