Our ecological public charity concentrates on Manmade Surplus, Natural Abundance,
& Eco-Education
Garbage Homes – Bolivia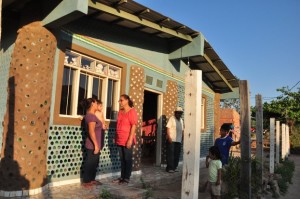 Ingrid Vaca Diez is on a mission to build better homes for the poor.
With few funds and little support, she uses the only resource she can find in abundance – empty plastic bottles.
Her own life in Santa Cruz, Bolivia, is one of relative comfort but she is shocked by the rising level of poverty she sees around her.
Though completely self-taught, she designs and builds new homes using recycled plastic bottles filled with dirt as the "bricks". So far, she has built 10 of these homes.
The people she is trying to help are rural, indigenous migrants, often living in single room, dirt floor shacks.
Ingrid picks her projects based on the urgency of a family's need. It is through her work that we will observe the broader social and economic problems facing the poor in Santa Cruz.
read more original article Aljazeera
---
Date: 2013-02-22
---
agriculture
agroforestry
algae
alternative energy
batteries
bees
biofuel
bioplastics
carbon capture
carbon farming
carbon sequestration
climate change
CO2
compost
conservation
electric cars
farming
food
food waste
forests
fuel efficiency
green buildings
green energy
green roofs
innovative design
innovative products
nature's wonders
plastic
pollution
recycle
regenerative agriculture
renewable energy
repurpose
reuse
soil
solar
Tesla
trees
urban farming
waste
water
wave energy
wetlands
wind power
zero waste