Our ecological public charity concentrates on Manmade Surplus, Natural Abundance,
& Eco-Education
Plans to put a beehive in every Berkeley middle school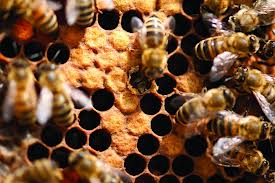 A new initiative, spearheaded by Berkeley's Edible Schoolyard Project, aims to put beehives in the city's three middle schools by next spring.King Middle School's one-acre garden, home to the Edible Schoolyard, has already jumped in having acquired a hive of Russian bees six weeks ago, under a program the organizers named Bee Experimental Education in Schools (BEES).
The idea, said Edible Schoolyard Director Kyle Cornforth, is to extend King's existing hands-on gardening and cooking education to include learning about pollination.
"It's so important for the kids to understand how many of the foods we eat and enjoy could not be possible without bees and other pollinators," said Cornforth. Bees play an important role in producing more than 100 crops grown in the United States, according to the BEES literature, as well as pollinating plants that animals graze on. The recent problem of Colony Collapse Disorder has made understanding pollination all the more important.
read more original article  Berkelyside
---
Date: 2013-02-14
---
agriculture
agroforestry
algae
alternative energy
batteries
bees
biofuel
bioplastics
carbon
carbon capture
carbon farming
carbon sequestration
climate change
CO2
compost
conservation
electric cars
farming
food
food waste
forests
fuel efficiency
green buildings
green energy
green roofs
innovative design
innovative products
nature's wonders
plastic
pollution
recycle
regenerative agriculture
renewable energy
repurpose
reuse
soil
solar
Tesla
trees
urban farming
waste
water
wave energy
wetlands
wind power