Our ecological public charity concentrates on Manmade Surplus, Natural Abundance,
& Eco-Education
India's radical plan to bury its garbage beneath the streets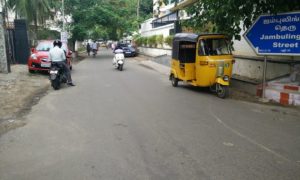 The environmentally conscious approach to road construction was developed in India around 15 years ago in response to the growing problem of plastic litter. As time wore on, polymer roads proved to be surprisingly durable, winning support among scientists and policymakers in India as well as neighboring countries like Bhutan. "The plastic tar roads have not developed any potholes, rutting, raveling or edge flaw, even though these roads are more than four years of age," observed an early performance report by India's Central Pollution Control Board. Today, there are more than 21,000 miles of plastic road in India, and roughly half are in the southern state of Tamil Nadu. Most are rural roads, but a small number have also been built in cities such as Chennai and Mumbai.
Adding flexible materials to strengthen tar roads is not a new idea. Commercially made polymer-modified asphalts first became popular in the 1970s in Europe. Now, North America claims 35% of the global market. Modified asphalts are made from virgin polymers and sometimes crumb rubber (ground tires). They are highly versatile: Illinois uses them to build high-traffic truck roads, Washington State uses them for noise reductionand in rural Ontario they are used to prevent roads from cracking after a harsh winter. Polymerized asphalts also tend not to buckle in extreme heat the way conventional roads do – plastic roads will not melt unless the temperature goes beyond 66C (150F), compared to 50.2C (122.5F) for ordinary roads – and are frequently used on roads in the Middle East.
But even in the US, cost is a significant barrier. The most widely used polymer, styrene-butadiene-styrene, can increase the price of a road by 30-50%. In India, high-stress roads like runways and expressways are increasingly using polymer modified asphalts made by manufacturers like DuPont.
While polymer roads in the US are made with asphalt that comes pre-mixed with a polymer, plastic tar roads are a frugal invention, made with a discarded, low-grade polymer. Every kilometer of this kind of road uses the equivalent of 1m plastic bags, saving around one tonne of asphalt and costing roughly 8% less than a conventional road. Dr R Vasudevan, a chemistry professor and dean at the Thiagarajar College of Engineering in Madurai, came up with the idea through trial and error, sprinkling shredded plastic waste over hot gravel and coating the stones in a thin film of plastic. He then added the plastic-coated stones to molten tar, or asphalt. Plastic and tar bond well together because both are petroleum products. The process was patented in 2006.
read more original article The Guardian
---
Date: 2016-07-07
---
agriculture
agroforestry
algae
alternative energy
batteries
bees
biofuel
bioplastics
carbon capture
carbon farming
carbon sequestration
climate change
CO2
compost
conservation
electric cars
farming
food
food waste
forests
fuel efficiency
green buildings
green energy
green roofs
innovative design
innovative products
nature's wonders
plastic
pollution
recycle
regenerative agriculture
renewable energy
repurpose
reuse
soil
solar
Tesla
trees
urban farming
waste
water
wave energy
wetlands
wind power
zero waste