Our ecological public charity concentrates on Manmade Surplus, Natural Abundance,
& Eco-Education
Fruit Walls: Urban Farming in the 1600s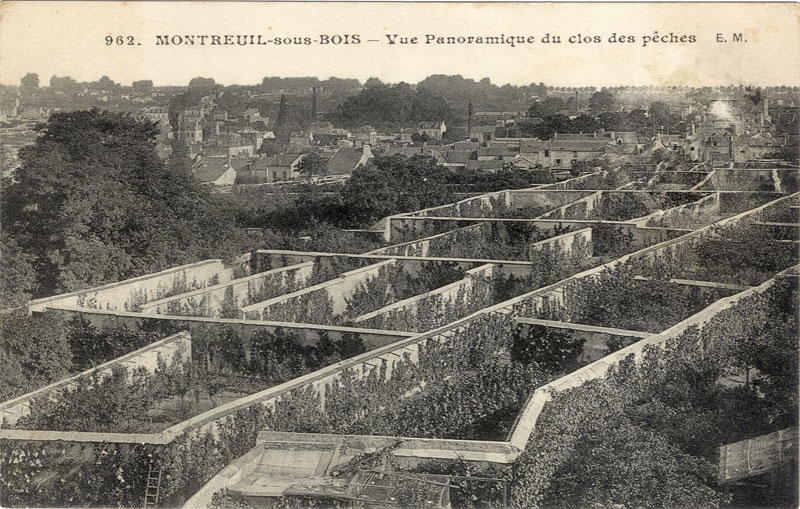 From the sixteenth to the twentieth century, urban farmers grew Mediterranean fruits and vegetables as far north as England and the Netherlands, using only renewable energy.These crops were grown surrounded by massive "fruit walls", which stored the heat from the sun and released it at night, creating a microclimate that could increase the temperature by more than 10°C (18°F).
By planting fruit trees close to a specially built wall with high thermal mass and southern exposure, a microclimate is created that allows the cultivation of Mediterranean fruits in temperate climates, such as those of Northern France, England, Belgium and the Netherlands.
The fruit wall reflects sunlight during the day, improving growing conditions. It also absorbs solar heat, which is slowly released during the night, preventing frost damage. Consequently, a warmer microclimate is created on the southern side of the wall for 24 hours per day.
Fruit walls also protect crops from cold, northern winds. Protruding roof tiles or wooden canopies often shielded the fruit trees from rain, hail and bird droppings. Sometimes, mats could be suspended from the walls in case of bad weather.
The fruit wall appears around the start of the so-called Little Ice Age, a period of exceptional cold in Europe that lasted from about 1550 to 1850. The French quickly started to refine the technology by pruning the branches of fruit trees in such ways that they could be attached to a wooden frame on the wall.
This practice, which is known as "espalier", allowed them to optimize the use of available space and to further improve upon the growth conditions. The fruit trees were placed some distance from the wall to give sufficient space for the roots underground and to provide for good air circulation and pest control above ground.
Peach Walls in Paris
Initially, fruit walls appeared in the gardens of the rich and powerful, such as in the palace of Versailles. However, some French regions later developed an urban farming industry based on fruit walls. The most spectacular example was Montreuil, a suburb of Paris, where peaches were grown on a massive scale.
Established during the seventeenth century, Montreuil had more than 600 km fruit walls in the 1870s, when the industry reached its peak. The 300 hectare maze of jumbled up walls was so confusing for outsiders that the Prussian army went around Montreuil during the siege of Paris in 1870.
read more original article Resilience
---
Date: 2016-01-06
---
agriculture
agroforestry
algae
alternative energy
batteries
bees
biofuel
bioplastics
carbon capture
carbon farming
carbon sequestration
climate change
CO2
compost
conservation
electric cars
farming
food
food waste
forests
fuel efficiency
green buildings
green energy
green roofs
innovative design
innovative products
nature's wonders
plastic
pollution
recycle
regenerative agriculture
renewable energy
repurpose
reuse
soil
solar
Tesla
trees
urban farming
waste
water
wave energy
wetlands
wind power
zero waste