Our ecological public charity concentrates on Manmade Surplus, Natural Abundance,
& Eco-Education
World's largest floating windfarm gets green light in Scotland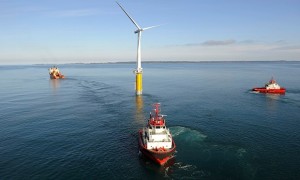 The Scottish government has granted consent for the world's largest floating offshore windfarm to be developed off the coast of Peterhead.
Oil and gas giant Statoil will build a 30MW pilot park consisting of five floating 6MW turbines, which could power nearly 20,000 homes. The project will be the UK's first ever floating windfarm development, with construction set to start next year.
Statoil's executive vice president for new energy solutions, Irene Rummelhoff, said: "Floating wind represents a new, significant and increasingly competitive renewable energy source. Statoil's objective with developing this pilot park is to demonstrate a commercial, utility-scale floating wind solution, to further increase the global market potential.
"We are proud to develop this unique project in Scotland, in a region that has optimal wind conditions, a strong supply chain within oil and gas and supportive public policies."
The development, known as Hywind Scotland, differs from conventional offshore windfarms by using turbines attached to the seabed by a three-point mooring spread and anchoring system. The turbines are interconnected by cables, one of which exports electricity from the pilot farm to the shore at Peterhead.
Research from the Carbon Trust has suggest that floating wind concepts could potentially reduce generating costs for offshore developments to below £100MWh, with larger concepts such as Hywind producing even lower costs of £85-95MWh. Currently the global average levelised cost of electricity for offshore projects is £112MWh.
read more original article The Guardian
---
Date: 2015-11-05
---
agriculture
agroforestry
algae
alternative energy
batteries
bees
biofuel
bioplastics
carbon capture
carbon farming
carbon sequestration
climate change
CO2
compost
conservation
electric cars
farming
food
food waste
forests
fuel efficiency
green buildings
green energy
green roofs
innovative design
innovative products
nature's wonders
plastic
pollution
recycle
regenerative agriculture
renewable energy
repurpose
reuse
soil
solar
Tesla
trees
urban farming
waste
water
wave energy
wetlands
wind power
zero waste