Our ecological public charity concentrates on Manmade Surplus, Natural Abundance,
& Eco-Education
A French company has launched a fleet of carbon-free cars in Indianapolis.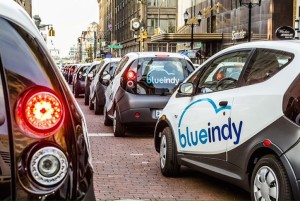 A French electric car sharing company has landed in the United States with ambitions to create the biggest carbon-free automotive network in the country.
The company, Bolloré, is establishing its beachhead not in San Francisco, Seattle, or any of the usual coastal hot spots of green living but in Indianapolis, the conservative capital of a coal-dependent Midwestern state.
"It's providing one more transit option in a city that really needs it," said Hervé Muller, who heads up the BlueIndy car-share program for Bolloré.
BlueIndy launched Wednesday in Indianapolis with 50 cars and more than 100 charging stations, making it one of the largest electric vehicle sharing programs in the U.S. (San Diego's Car2Go network went online in 2011, and its fleet has 400 vehicles.) By the end of the year, BlueIndy plans to have 200 cars available for rent.
The service, which is designed for trips lasting 20 to 30 minutes, is modeled after Autolib', Bolloré's E.V. car sharing operation in Paris that is considered the largest in the world.
read more original article Takepart
---
Date: 2015-09-17
---
agriculture
agroforestry
algae
alternative energy
batteries
bees
biofuel
carbon
carbon capture
carbon farming
carbon sequestration
climate change
CO2
compost
conservation
electric cars
farming
food
food waste
forests
fuel efficiency
green buildings
green energy
green roofs
innovative design
innovative products
nature's wonders
plastic
pollution
recycle
regenerative agriculture
renewable energy
repurpose
reuse
soil
solar
Tesla
trees
urban farming
waste
water
wave energy
wetlands
wind power
zero waste