Our ecological public charity concentrates on Manmade Surplus, Natural Abundance,
& Eco-Education
Will Buildings of the Future Be Cloaked In Algae?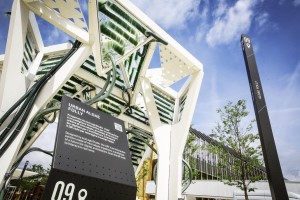 Built by a London architecture firm, a new gazebo has a living "skin" that produces oxygen and absorbs considerable amounts of carbon dioxide.
In the future, green buildings may actually be green. A gazebo, unveiled this month at the Expo 2015 world's fair in Milan, demonstrates how algae-filled plastic could serve as a living "skin" for buildings.
"This technology is really quite exciting for us because this is the first time we've got it to this scale," says Marco Poletto, co-founder of ecoLogicStudio, the London architecture and urban design firm that created the 430-square-foot gazebo. EcoLogicStudio calls the project the Urban Algae Folly, playing with the traditional meaning of "folly" as an extravagant garden structure.
The gazebo is made of ethylene tetrafluoroethylene (ETFE), a transparent plastic building material most famously used in the Water Cube aquatics center built for the 2008 Beijing Olympics. The ETFE's hollow interior is filled with water and spirulina, a type of algae often used as a dietary supplement. The growth of the algae will depend on sunlight and temperature, as well as on input from digital sensors that detect the presence of people and change the algae flows to create different patterns. The more sun, the more the algae will grow and darken the gazebo, providing shade for the people beneath.
Read more original article Smithsonian 
---
Date: 2015-06-03
---
agriculture
agroforestry
algae
alternative energy
batteries
bees
biofuel
bioplastics
carbon capture
carbon farming
carbon sequestration
climate change
CO2
compost
conservation
electric cars
farming
food
food waste
forests
fuel efficiency
green buildings
green energy
green roofs
innovative design
innovative products
nature's wonders
plastic
pollution
recycle
regenerative agriculture
renewable energy
repurpose
reuse
soil
solar
Tesla
trees
urban farming
waste
water
wave energy
wetlands
wind power
zero waste