Our ecological public charity concentrates on Manmade Surplus, Natural Abundance,
& Eco-Education
Newly Discovered Fungus Could Rid Landfills of Plastics!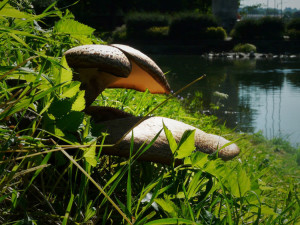 Students from Yale's Department of Molecular Biophysics and Biochemistry discovered a previously unknown type of fungus that has a hearty appetite for polyurethane, a polymer that is used in everything from hard plastics to synthetic fibers.
As shared by Fast Company, the fungus is the first one that is known to survive on polyurethane alone, and it can do so in an anaerobic (oxygen-free) environment, suggesting it could be used at the bottom of landfills.
"Many microbes can do cool tricks, like degrading pollutants," said Jonathann Russell to the Yale alumni magazine. But a large reason plastics like polyurethane take so long to break down is that microorganisms don't typically recognize it as food,  therefore it can take centuries for man-made polymers to break down into microscopic granules.
But the discovery of Pestalotiopsis microspora may change all that.
The students of Yale isolated the enzyme that enables the fungus to break down plastic then observed its potential.
No doubt the first step in reducing environmental pollution is to completely eliminate the production of materials which take thousands of years to biodegrade, and second, to re-use or recycle already produced materials into new form.
Ultimately, however, this finding opens up an entire new area of intrigue as its potential to break down plastics is tested and evaluated.
read more original article Nationofchange
---
Date: 2015-05-27
---
agriculture
agroforestry
algae
alternative energy
batteries
bees
biofuel
bioplastics
carbon
carbon capture
carbon farming
carbon sequestration
climate change
CO2
compost
conservation
electric cars
farming
food waste
forests
fuel efficiency
green buildings
green energy
green roofs
innovative design
innovative products
nature's wonders
plastic
recycle
regenerative agriculture
renewable energy
repurpose
reuse
soil
solar
Tesla
trees
urban farming
waste
water
wave energy
wetlands
wind
wind power
zero waste