Our ecological public charity concentrates on Manmade Surplus, Natural Abundance,
& Eco-Education
SUMMER CAMP – LEAF Academy – 2015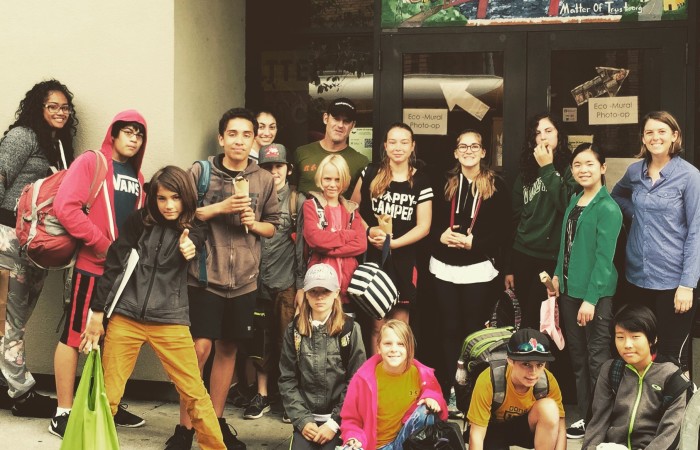 CHECK OUT OUR NEW LEAF / SPROUTS INTERNSHIP PROGRAMS AT:
MATTER OF TRUST ECO-INDUSTRIAL HUB
MATTER OF TRUST ECO-LIVING CENTER
ARCHIVED INFO ON PREVIOUS LEAF SUMMER CAMPS BELOW
The LEAF Academy program is for middle school kids ages 10-13 in the San Francisco Bay Area with teachers from Presidio Hill School, Matter of Trust and beyond!
Visit a fantastic student blog documenting their experiences and learning at 
LEAF student vlog.
LEAF Academy at a Glance-
2016 Dates: July 11th – July 22nd
Location: Tree Frog Trek's Building – 2112 Hayes Street, San Francisco CA 94117 (Hayes Street & Cole Street)
10 days – Monday-Friday from 8:30 am – 4:30 pm
Age Group –  Middle Schoolers (ages 10-13)  (Alums ages 13-17)
Group Size –  1:10 adult-to-child ratio for high quality instruction
Tuition – $799 for two week (10 day) session 

Food – Healthy snacks included, please bring your lunch
Field-Trip Transportation – Provided via van, public transportation and walking
Top 5 Reasons Parents and Kids Love Summer LEAF Academy:
Ÿ Two vital ecological courses, back to back
Ÿ Compelling and inspirational field trip experiences
 An amazing staff — with teachers and staff specially trained in LEAF Academy curriculum
 Group projects that boost confidence for designing and implementing solutions
 Fun with new friends for the school year and beyond!
The Meaning of LEAF
LEADERSHIP
At LEAF, today's youth are empowered with the right tools and social skills to share environmental concepts effectively.
ECOLOGY
Each unit provides a deep understanding of natural systems, scientific principles and vocabulary.
ACTION
Students get valuable exposure to experts in the field and hands-on experiences designed to enhance their perspectives on ecology.
FELLOWSHIP
Our unique adventures help kids form natural friendship bonds, team building and strong communities!
For Rising 6th – 8th Graders
At the LEAF Academy, we're passionate about helping kids develop a deeper understanding of and appreciation for ecology. That's why we offer a dynamic 10-day summer program designed to inspire your child to help make the world a better place.
We believe kids learn best by doing, therefore every day at LEAF consists of authentic, hands-onfieldwork. Our campers interact with amazing scientists, engineers, and other professionals whose work helps make our planet more sustainable. We travel to both urban and natural sites, allowing kids to experience first-hand the wonders of nature and how interconnected it is to their lives. They come away profoundly motivated by what they've learned and ready to make a difference!
LEAF visits many locations on daily field trips. The volunteering we do spreads far and wide, and we are partnered with many amazing organizations. Here are some organizations and places we've visited in the past: Turtle Island Restoration Network (SPAWN), San Francisco's Rec & Park Department, San Francisco Public Utilities Commition (SFPUC), Recology, Presidio Trust, Heart of the City Farmers Market, Luminalt Solar, Rainbow Grocery Coop, GLIDE Memorial, Blue Waters Kayaking, Tenderloin People's Garden, Gospel Flats Farm, San Francisco Food Bank, City Slickers Farm, Marin Organics, Good Earth Coop as well as many community spaces and public parks.
---
Date: 2015-07-29
---